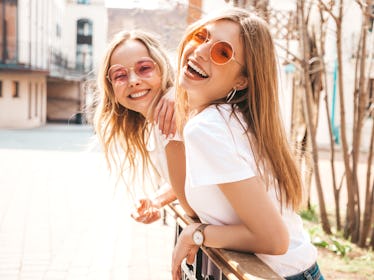 29 Easter IG Captions That'll Get You In The Hoppy Spirit
Shutterstock
It's time to break out your baskets and sundresses, because Easter is right around the corner. Many people throughout the world spend this day with friends and family. In addition to being an important Catholic holiday, Easter is also associated with welcoming springtime vibes, organizing Easter egg hunts, and dressing head-to-toe in paste. Along with the cute pics you'll take, you'll also need some great Easter Instagram captions to pair with all of the holiday feels.
It may be a family tradition of yours to get dressed up in your best dresses for major holidays, but there's just something about Easter that adds a bit more oomph to your outfit. It's probably because it's all spring-like, pastel, and floral.
Even if you have a theme to your Instagram, spring brings a pop of color and more vibrance to your feed. Whether you're posting a picture of a bunny you saw that got you in the spirit, or flowers blooming in your garden outside, your pictures may take on a lighter tone. While captions can gain inspiration from what you're doing in it or what it's of, here are some to help you (and also keep an Easter theme).
1. "Easter is the only time it's OK to put all of your eggs in the one basket."
2. "Somebunny loves you."
3. "Easter: An egg-stra special holiday."
4. "I said a hip hop... the hippie to the hip hip hop." — Sugarhill Gang, "Rapper's Delight
5. "Hoppin' over to the chocolate."
6. "Such a hoppy day with the fam."
7. "Easter eggs hunts: proof your siblings can find things when they really want to."
8. "24 Karrot Gold."
9. "Talk to the tail, because the bunny ears don't wanna hear it."
10. "An eggstra special day."
11. "When life gives you lemons, throw them back and ask for chocolate."
12. "Why did the Easter egg hide? Because it was a little chicken."
13. "Bunny kisses, Easter wishes."
14. "Chocolate doesn't ask silly questions, chocolate understands."
15. "I've hidden all the Easter candy for the hunt inside my stomach."
16. "Baskets And Bunnies."
17. "The only person I'd share my chocolate Easter eggs with."
18. "How do I like my eggs? Um, in chocolate form."
19. "Easter is meant to be a symbol of hope, renewal, and new life." — Janine di Giovanni
20. "An eggstra special Easter."
21. "I believe in chocolate for breakfast. At least for Easter breakfast."
22. "Pass the (chocolate) eggs, please."
23. "Sending a shoutout to all my peeps on Easter."
24. "Sweeter than chocolate."
25. "I feel hollow inside. Like this chocolate bunny."
26. "I'm so eggcited about Easter!"
27. "Follow the bunny. He has chocolate."
28. "Keep calm, because you're not too old for an Easter Egg hunt."
29. "Easter spells out beauty, the rare beauty of new life." — S.D. Gordon
This article was originally published on