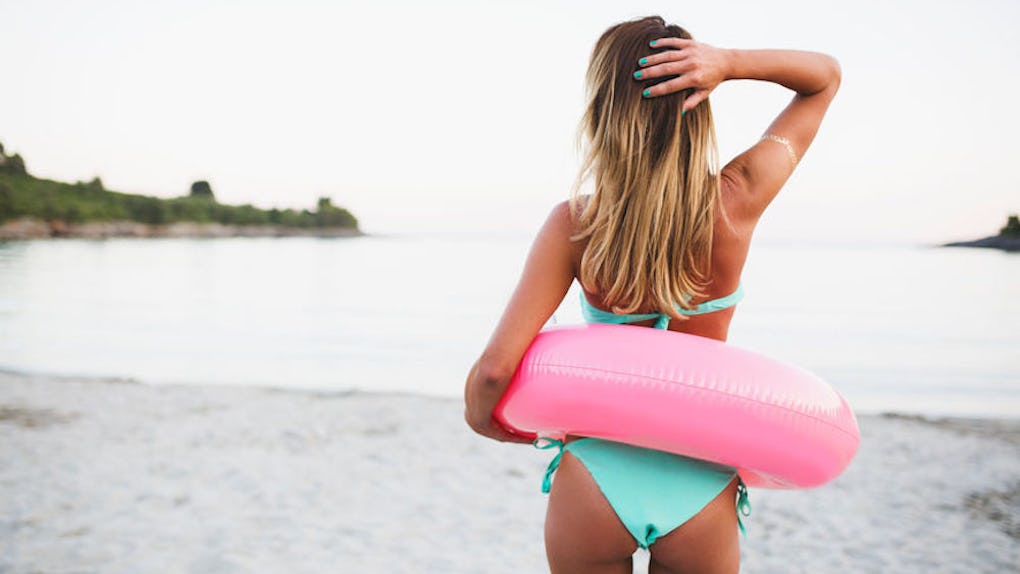 Jovana Rikalo/Stocksy
28 Instagram Captions For Tan Line Pics & Staying Golden This Summer
The warmest months of the year will be here before you know it, and you're slowly putting together your summer plans. You're taking days off of work for camping trips, and penciling in the Friday nights that'll be spent making s'mores and watching the stars light up the night sky. You're also marking the word "busy" on afternoons you're planning on grabbing a book, heading to the beach, and getting your tan on. Truth is, you know that being tan isn't everything. But, you'd be lying if you said you aren't excited to have quality beach time and be a little sun-kissed. I don't blame you, so let the search for Instagram captions for tan line pics begin.
You see, like you, I'm ordering new brightly-colored tank tops and bathing suits with palm tree designs. I'm trying the different pieces on in front of my full-length mirror, and imagining myself lounging by the pool or soaking up the sun on an island somewhere. (I'm sorry. Can we fast-forward to those moments, please?) I'm ready to ditch the clouds and the rain for lazy beach days and a tan that's sweeter than lemonade.
I know I could've applied self-tanning lotion over the winter, and that I won't be feelin' and lookin' golden immediately after befriending those sun beams. I'll consistently apply a lot of sunscreen and won't lay out for too long, of course, and let my freckles pop over the course of the next few months.
But, the excitement is still very real for tan lines and all of the pics that will follow. Do yourself a favor while you're waiting for your sun-soaked dreams to develop, and find a few captions for those pics now. Amongst all of your other plans, you're assuming you'll hit the "share" button a few times this summer and show off your glowing vibes on the 'Gram.
1. "Stay golden, babe."
2. "I'm all about the good times and tan lines."
3. "Looking a little well-done."
4. "We're glowing brighter than the sun."
5. "It's a tanning kind of day."
6. "Salty hair and tan lines."
7. "Live a bikini kind of life."
8. "You can never have too much beach."
9. "Getting kissed by the sun."
10. "The tans will fade, but the memories will last forever."
11. "Soaking up the sun... do not disturb."
12. "My tan lines are sweeter than freshly-made lemonade."
13. "Chilling in the sunshine won't solve all your problems, but it's a pretty good start."
14. "Sorry for the things I said when it was winter."
15. "90 percent tan and 10 percent sunburnt."
16. "Blue skies, denim shorts, and a salty tan."
17. "Good tans take time."
18. "The more you glow, the more others glow back."
19. "Sun's out, tan lines out."
20. "You had me at aloha."
21. "BRB: Laying in the sun all day."
22. "Sunscreen, sun-kissed, hydrate. Repeat."
23. "I don't need a man. I need a bikini and a tan."
24. "Hot diggity dog! Now, that's a tan line."
25. "Peace, love, and lounging in the sun."
26. "Feelin' so fine in the sunshine."
27. "Radiate positivity."
28. "Girls just wanna have sun."
Did you find at least one caption that works for your social media style? Sweet! Then the search is over and you're truly ready for summer. You're ready for the relaxing and Instagram-worthy vacations you have planned, and the adventurous road trips on the West Coast that are still in the works. Most importantly, you're ready to soak up the sun and love your radiant tan lines.