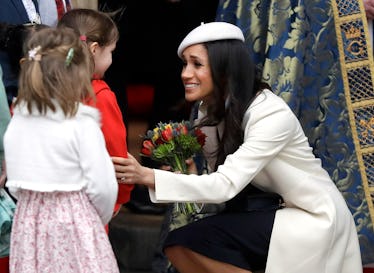 28 Captions For Meghan Markle Wedding Photos, Because Here Comes The Bride
WPA Pool/Getty Images Entertainment/Getty Images
This May is about to be picture-perfect, for the pure reason that it's royal wedding season. Since the day Meghan Markle and Prince Harry announced their engagement, some of us have been anxiously awaiting May 19 and all the magical moments to come. The best scone recipes have been tracked down on Pinterest, and we're planning to toast our Pimm's Cups with our people during the celebrations. Social media certainly won't miss a minute of it, and if you're posting a picture of the bride-to-be, you'll want to be prepared with Instagram captions for Meghan Markle wedding photos.
Growing up, you may have daydreamed about your own wedding. You and your besties once ran around your house with pillow cases on top of your heads and caught fake bouquets. Nowadays, you've thought a bit about what style of dress you'd wear while watching episodes of Say Yes To The Dress, and have clued your besties in on the best engagement ring style for you. They know exactly what your partner should pick out, and will likely be your bridesmaids. Now, just toss in the tiara, right?
For Meghan Markle, those wedding daydreams will be a little different. The whole world will be watching her walk down the aisle. She'll be a stunning vision on the big day, while we're casually crying on the other side of the television screen (and posting a picture or two on the 'Gram in between tissues). The royal wedding is going to be serious #goals, but these 28 captions will be perfect for your Meghan Markle posts.
1. "Where there is love there is life." — Mahatma Gandhi
2. "Fight for the fairytale. It does exist." — Unknown
3. "I feel that there is nothing more truly artistic than to love people." — Vincent Van Gogh
4. "Love is meant to be an adventure." — Gordon B. Hinckley
5. "There are divine things more beautiful than words can tell." — Walt Whitman
6. "Once in awhile, right in the middle of an ordinary life, love gives us a fairytale." — Unknown
7. "Only do what your heart tells you." — Princess Diana
8. "You know you're in love when you can't fall asleep because reality is finally better than your dreams." — Dr. Seuss
9. "They had one important thing in common. They were crazy about each other." — Nicholas Sparks, The Notebook
10. "You know, when it works, love is pretty amazing. It's not overrated. There's a reason for all those songs." — Sarah Dessen
11. "Every love story is beautiful, but this one's my favorite." — Unknown
12. "All you need is love." — The Beatles
13. "'I don't believe in magic.' The young boy said. The old man smiled. 'You will, when you see her.'" — Atticus
14. "Life is a party, dress like it." — Audrey Hepburn
15. "She's bright like glitter, and bubbly like champagne." — Unknown
16. "She leaves a little sparkle wherever she goes." — Kate Spade
17. "Keep your heels, head, and standards high." — Coco Chanel
18. "Nothing fancy, just love." — Unknown
19. "Happy girls are the prettiest girls." — Audrey Hepburn
20. "Look for the girl with the sun in her eyes." — The Beatles, "Lucy In The Sky With Diamonds"
21. "It's happening!" — Bridesmaids
22. "Here comes the bride." — Unknown
23. "Cheers to happily ever after." — Unknown
24. "Being happy never goes out of style." — Lilly Pulitzer
25. "Love is in the air." — Unknown
26. "Sip, sip, hooray!" — Unknown
27. "You're tea-riffic." — Unknown
28. "Together is a beautiful place to be." — Unknown
Don't wait until hours after Meghan Markle has made it down the aisle to say "I do" to one of these captions. You'll want your post to be prepped, so you can focus on keeping up with the coverage and celebrating such a magical event.