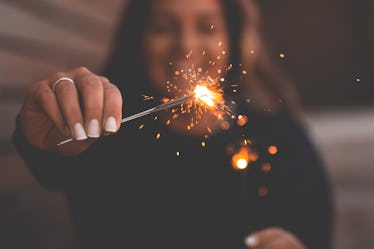 28 Instagram Captions For Saying Goodbye To 2017 & Never Looking Back
Can you believe it's already almost 2018? The year flew by — and I can't say I'm sad to see it go. 2017 was a tricky year, full of ups and downs. And besides, every year we look forward with hope to what a new year might bring. Who knows if it could be a great new job, a new SO, or a few new friendships? With the rollercoaster that 2017 was, it's time for "goodbye 2017" Instagram captions, like ASAP.
Whether you're lounging around at home with some wine and a few friends, dancing the night away, or ringing in the New Year at a party with your SO, chances are high that you'll be snapping a pic of your nighttime festivities. Kiss the year goodbye with your loved ones and some quote-worthy wisdom (or sass, if that's your thing). It's time to tell 2017 hasta la vista, baby.
These 28 captions are the perfect kick-off to a new year, and the perfect goodbye to this year. And don't forget: leave the bad in the past, and maybe we can make this year great.
1. "12 new chapters, 365 new chances." –Unknown
2. "New Year, new feels, new chances, same dreams, fresh starts." –Unknown
3. "Whatever happened over the past year, be thankful for where it brought out. Where you are is where you're meant to be." –Unknown
4. "What is coming is better than what is gone." –Unknown
5. "So I close my eyes to old ends and open my heart to new beginnings. –Nick Frederickson
6. "It's on. Time to make the magic happen." –Unknown
7. "If I've learned anything this year, it's that I won't ever be ready for what life throws at me. I won't have the right words when it counts; I won't know what to choose when fate itself is staring me down. But now I know I don't always need to have the right answer." –Land Leav
8. "There are far better things ahead than any we leave behind." –C.S. Lewis
9. "Dear past, thanks for all the lessons. Dear future, I am ready." –Unknown
10. "And so the adventure begins." -Unknown
11. "This will be a good year." -Unknown
12. "Wish you peace and love and laughter in the new year." -Unknown
13. "And suddenly you know... it's time to start something new and trust the magic of beginnings." –Unknown
14. "So, I close my eyes and open my heart to new beginnings." –Unknown
15. "I have decided that this will be a ridiculously amazing year." –Unknown
16. "The best is yet to come." -Carolyn Leigh
17. "Dear self: This is going to be your year. So dust off your sh*tkickers & let's get started. All my love, Me." –Unknown
18. 'Write it on your heart that every day is the best day in the year." –Unknown
19. "Don't live the same year 75 times and call it a life." –Unknown
20. "Stop saying yes to sh*t you hate." –Unknown
21. "What if you simply devoted this year to loving yourself more?" –Unknown
22. "For what it's worth, its never too late to be whoever you want to be. I hope you live a life you're proud of, and if you find that you're not, I hope you have the strength to start over." –F. Scott Fitzgerald
23. "Here's to a brilliant new year." –Unknown
24. "Good things take time." Unknown
25. "This is the beginning of anything you want." –Unknown
26. "Who are you kissing on New Years? I'm kissing 2017 goodbye." –Unknown
27. "And now we welcome the new year, full of things that have never been." –Rainer Maria Rilke
28. "What feels like the end is often the beginning." –Unknown