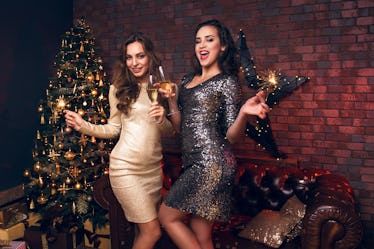 23 Instagram Captions For Your New Year's Eve Outfit Thirst Trap Pics
Ladies, a well-planned thirst trap pic is necessary every once in awhile. Why not share that fabulous time where you looked and felt your best? Holidays? Easy. Being festive AF should be your second job and that's why Instagram captions for New Year's Eve outfit should further seal the deal on that thirst trap you've gracefully placed on your page. Sparks are going to be flying everywhere already for the holiday, so why not make your page extra lit?
I mean, you're bringing in something new, so you are going to feel super fly when you're watching the ball drop, snapping a pic, and lighting up your feed. Thirst traps are your way of cherishing the the skin that you're in, and irrevocably claiming the moment as your own. And as much as women are totally not for just viewing, we can use that lady charm we are all blessed with and strike a glorious pose for the 'Gram.
Let's face it, thirst traps subliminally give us a little poke at our confidence, even if you don't want to outright admit it. Your New Year's Eve outfit is going to be the first outfit you'll wear in 2018. Make it fun, unique, and as glamorous as you damn well please. The ball is going to drop inevitably, but with any of these captions to accompany your thirst trap pic, those jaws will be dropping as well.
1. "One is never overdressed or under-dressed in a Little Black Dress." — Karl Lagerfeld
2. "Never be afraid to be sexy!" — Alysha Speer
3. "Fashion is what you buy. Style is what you do with it." — Unknown
4. "The most alluring thing a woman can have is confidence." — Beyoncé
5. "Some women fear the fire. Some women simply become it." — R.H. sin
6. "She wasn't looking for a knight, she was looking for a sword." — Atticus
7. "The most beautiful thing you can wear is confidence." — Blake Lively
8. "Prepared to slay 2018." — Unknown
9. "Write it on your heart that every day is the best day in the year." — Ralph Waldo Emerson
10. "When you have confidence, you can have a lot of fun. And when you have fun, you can do amazing things." — Joe Namath
11. "No one can make you feel inferior without your consent." — Eleanor Roosevelt
12. "Beauty is about being comfortable in your own skin. It's about knowing and accepting who you are." — Ellen DeGeneres
13. "True beauty is measured by the number of pearls within you, not those around your neck." — Suzy Kassem
14. "I didn't come this far to only come this far." — Unknown
15. "Even on my worst day I'm still killin' it." — Unknown
16. "And one day she discovered that she was fierce, and strong, and full of fire, and that not even she could hold herself back because her passion burned brighter than her fears." — Mark Anthony
17. "I think if you can dance and be free and not embarrassed, you can rule the world." — Amy Poehler
18. "I do a thing called what I want." — Unknown
19. "How you love yourself is how you teach others to love you" — rupi kaur
20. "Life is short. Make each hair flip fabulous." — Unknown
21. "She's beautiful, and therefore to be wooed; She is a woman, therefore to be won." — William Shakespeare
22. "Everyday is a fashion show and the world is the runway." — Unknown
23. "The beauty of a woman must be seen from in her eyes, because that is the doorway to her heart, the place where love resides." — Audrey Hepburn
Let your New Year's Eve thirst trap pic embody the idea that you're not playing around this year. Charge into 2018 as fiercely as you can.