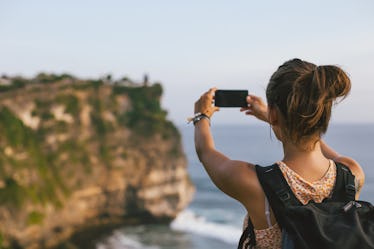 27 Insta Captions For Summer Travel, Because There's A Beautiful World To See
There are a few things in life I've found refresh my soul like no other. They are as follows: iced coffee, time spent with loved ones, and, of course, traveling the world. Many of us can agree that travel sparks something so magical inside. The hunger for new experiences is all too real, and checking places off your dream bucket list feels pretty spectacular. Taking a break from real life for a bit and embracing a charming beach town or a bustling city you've never been to before is what so many of us live for. To kick off your upcoming adventures throughout the warmer months, you're going to want some Instagram captions for summer travel.
It's clear most of us love posting pictures on the 'Gram, especially when we're traveling someplace new, but coming up with a witty captions can be such a struggle. It's too time-consuming, and the last thing you want to be doing when you're traveling. But don't fret, because you'll be posting those pictures in paradise in just about no time. These 27 captions are the perfect travel quotes that sum up life, love, and experiencing beautiful new corners of the world.
1. "Veni, vidi, amavi. We came, we saw, we loved." — Unknown
2. "Of all the books in the world, the best stories are found between the pages of a passport." — Unknown
3. "And so, the adventure begins." —Unknown
4. "All we have to decide is what to do with the time that is given us." — J.R.R. Tolkien
5. "Jobs fill your pocket, adventures fill your soul." — Jaime Lyn Beatty
6. "Travel. As much as you can. As far as you can. As long as you can. Life's not meant to be lived in one place." — Unknown
7. "Up in the clouds on my way to unknown things." — Unknown
8. "Happiness is planning a trip to somewhere new, with someone you love." — Unknown
9. "Wherever you go becomes a part of you somehow." — Anita Desai
10. "We have nothing to lose and a world to see." — Unknown
11. "Travel sparks our imagination, feeds our curiosity, and reminds us how much we all have in common." — Deborah Lloyd
12. "I do believe it's time for another adventure." — Unknown
13. "Buy the ticket, take the ride." — Hunter S. Thompson
14. "Fill your life with adventures, not things. Have stories to tell, not stuff to show." — Unknown
15. "The world is a book and those who do not travel read only one page." — St. Augustine
16. "Always take the scenic route." — Unknown
17. "Once a year, go someplace you've never been before." — Dalai Lama
18. "Work. Save. Travel. Repeat." — Unknown
19. "Life is short, and the world is wide." — Unknown
20. "Better to see something once than to hear about it a thousand times." —Asian Proverb
21. "No reason to stay is a good reason to go." — Unknown
22. "There are seven days in a week in someday isn't one of them." — Unknown
23. "Actually, the best gift you could have given her is a lifetime of adventures. — Lewis Carroll
24. "I'll look back on this smile because it was life and I decided to live it." — Unknown
25. "Travel far enough, you meet yourself." — David Mitchell
26. "I am not the same having seen the moon shine on the other side of the world." — Mary Anne Radmacher
27. "If we were meant to stay in one place, we'd have roots instead of feet." — Rachel Wolchin