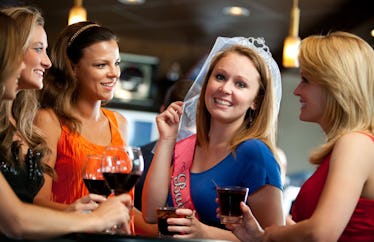 27 Instagram Captions For Bridal Shower Pics That Are So, So Sweet
There's so much love and support that goes into hosting and participating in a bridal shower. Your girl is about to enter an exciting new chapter of her life with a special person, and the shower is a sign that she's one step closer to living out her very own happily ever after. These gatherings tend to get emotional, so make sure you have Instagram captions for bridal shower pictures before your vision gets too blurred from all the happy tears. (The waterworks are inevitable, so bring some extra tissues, too.)
Between playing games, posing for pics with the bride tribe in front of a pretty backdrop, and gift opening, there will be a whirlwind of emotions going around on this very special day. A bridal shower is meant to sort of put the bride at ease. Most, if not all, of the people at the shower will be at the wedding, and it's a sweet way to send the bride on her way to her forever person.
Obviously, make sure to snap a great pic of the bride opening your gift, and if you're the maid of honor, you'll want to have a sweet speech prepared for your girl. Whether the bride is your bestie, a family member, or a hometown friend, any of these 27 captions should recount the beautiful moments you capture at the shower.
1. "Forecast: Bridal Shower" — Unknown
2. "They grow up so fast, don't they?" — Unknown
3. "My girl is one step closer to being a Mrs." — Unknown
4. "Miss to Mrs." — Unknown
5. "Once in a while, right in the middle of an ordinary life, love gives us a fairy tale." — Melissa Brown
6. "I didn't think so much love could possibly fit in one room." — Unknown
7. "Excuse me, I am here for the future wifey." — Unknown
8. "It's not what we have in our life, but who we have in our life that counts." — J. M. Laurence
9. "Sparks are going to fly at the wedding, but the magic starts at the bridal shower." — Unknown
10. "It's bridal shower time, which means someone hand me the Kleenex." — Unknown
11. "You had me at something borrowed, something blue." — Unknown
12. "Pop the champagne, she's changing her name." — Unknown
13. "Can attending bridal showers be a profession already, please?" — Unknown
14. "Bride tribe vibes." — Unknown
15. "I couldn't be happier for this woman and the exciting journey that lies ahead." — Unknown
16. "It's only the bridal shower and I'm already crying." — Unknown
17. "The party don't start until the future bride walks in." — Unknown
18. "Dear Bridal Shower: I came with a gift, but I am leaving with so much more." — Unknown
19. "Nothing beats the beauty of a bridal shower. Oh wait, except the bride." — Unknown
20. "Do not disturb. It's bridal shower time." — Unknown
21. "Here's to the bride and the happy days ahead." — Unknown
22. "Team bride." — Unknown
23. "Some moments are nice, some are nicer, some are even worth writing about." ― Charles Bukowski
24. "Life is made up of moments, and I am so happy I got to experience this one." — Unknown
25. "There's something about a bridal shower that just has a ring to it." — Unknown
26. "Love is old, love is new, love is all, love is you." — The Beatles, "Because"
27. "You haven't witnessed pure excitement until you've laid eyes on the bride at a bridal party." — Unknown