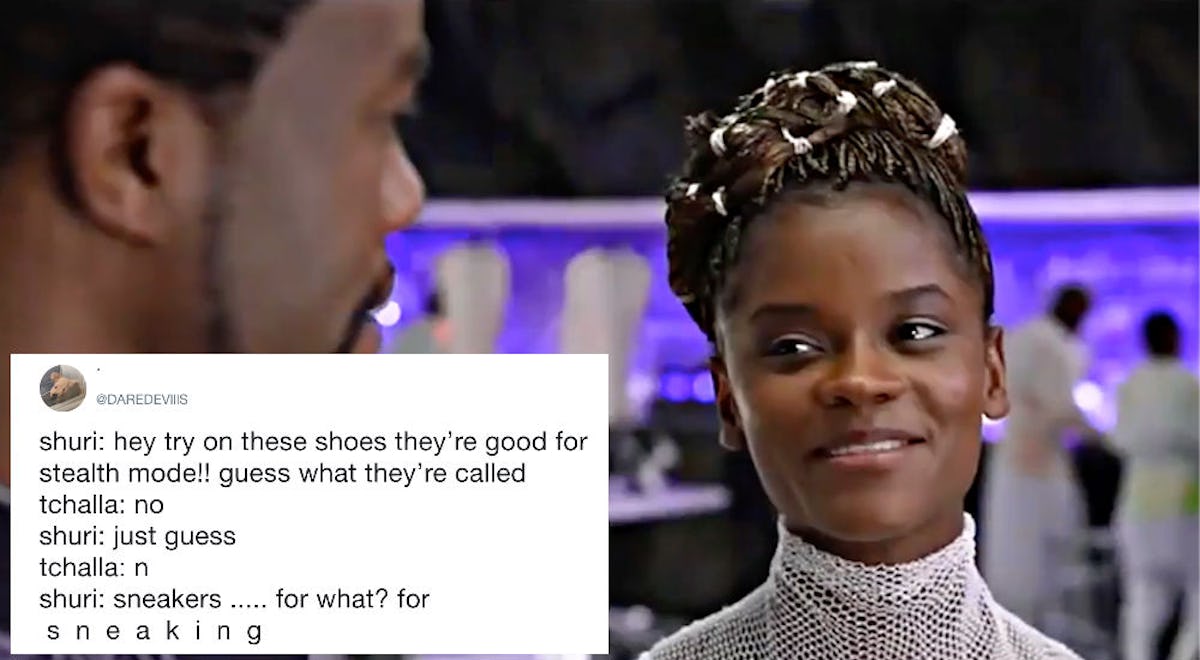 25 Tweets About Shuri In 'Black Panther' That Will Make You Laugh Just As Hard As She Did
Marvel
The movie may be called Black Panther, but honestly... Black Panther is not the best character. No shade to T'Challa: he's great and all, but the real stars that Black Panther gave us are the women of Wakanda. Lupita Nyong'o's super spy Nakia is the true political mind of the country, and Danai Gurira's fierce warrior Okoye is the most badass fighter ever. But it was Letitia Wright's Shuri that truly stole the show. T'Challa's little sister made a big impression on audiences, and these 25 tweets about Shuri in Black Panther prove that she is everyone's new favorite Marvel Cinematic Universe character.
Honestly, there are so many reasons to love Shuri that it's hard to even narrow it down. Right off the bat when we meet T'Challa's sister, she becomes the clear source of comedy in the movie, cracking jokes and one-liners left and right. On top of being the funniest character in Wakanda, Shuri is also the smartest. Her lab is the most advanced in the world, and she is largely responsible for making Wakanda the technological marvel that it is thanks to her innovations with Vibranium. Oh, and she has accomplished all of this at the age of sixteen!!
Shuri's scientific genius is one of the main things that everyone loves about her. Check out some of the best tweets below:
In fact, Shuri is so mind-blowingly brilliant that Marvel fans on Twitter are pointing out that she's an even better scientific genius than the Avengers' resident science-bro, Tony Stark:
Shuri is confirmed to appear in the upcoming Avengers: Infinity War along with Tony Stark, and I know I'm not alone in saying that I cannot wait to see those two interact with each other!
And Shuri is so much more than just a super-brain; she also livened Black Panther up with all of the most quotable lines from the movie. Shuri's snarky one-liners were pretty much made for Twitter, so it's no surprise that everyone online can't stop talking about them:
Oh, and as if Shuri couldn't get any more awesome, here's your reminder that on top of being a genius scientist and hilarious jokester, she is also a bona fide Disney princess! Yep — since Disney owns Marvel, and Shuri is the princess of Wakanda, that technically makes her a Disney princess. So step aside Cinderella and Snow White, because Shuri is giving little girls a whole new type of hero to look up to.
Once people realized that Shuri is indeed a Disney princess, Twitter lit up with fans celebrating the newest addition:
After stealing everyone's heart who saw Black Panther, it is also no wonder that everyone is begging Marvel to give Shuri her own standalone movie now. In the Marvel comics, Shuri actually does take over as the Black Panther after T'Challa, which could be a storyline that's ripe for adaptation on the big screen if Marvel listens to fans' pleas. No new Black Panther projects have been announced yet, but Shuri will appear again in Avengers: Infinity War on May 4. Hopefully we get even more brilliance from here in that movie, and Marvel gets a Shuri spinoff in the works soon:
Obviously, Shuri has become a huge breakout role for Letitia Wright. Prior to Black Panther, the London-based actress appeared in a number of popular British series, including the sci-fi series Humans, the LGBT anthologies Cucumber and Banana, and Drake's favorite crime drama Top Boy. For American audiences, Wright is probably most familiar from her starring role on the recent Black Mirror episode "Black Museum." She will also star in Steven Spielberg's big sci-fi movie Ready Player One later this year.
Shuri will return in Avengers: Infinity War, which lands in theaters on May 4.