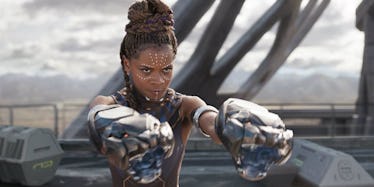 3 Things To Know About T'Challa's Sister Shuri Before Seeing 'Black Panther'
Marvel
Black Panther is a movie that's all about representation. While fans knew far ahead of time this would be the first major blockbuster style movie about a black superhero, no one quite expected that it would be the first of the Marvel films to elevate the female roles to show true equality between the sexes. The women of Black Panther have been front and center of the film's marketing campaign, especially T'Challa's sister, Shuri, played by Letitia Wright. Is Shuri in the Black Panther comics? Or was she a character created specifically for the film?
The Black Panther character was originally created in the 1960s but wasn't given his own standalone series until the early '70s. At that time, most of the characters we know today, like Erik Killmonger for instance, were introduced, along with Wakanda's history. But one character wasn't: Shuri.
Shuri is the half-sister of T'Challa, born after his father, T'Chaka, remarried. (His first wife, T'Challa's mother, N'Yami, died in childbirth.) Because of that, she's also far younger than her brother. T'Challa is supposed to be in his 30s while Shuri is barely 16.
She was first created in the 2005 series Black Panther vol. 4 #2 by writer Reginald Hudlin, with a specific purpose in mind — one that deserves a spoiler cut.
Warning: Spoilers for Black Panther comics, and perhaps the Black Panther sequel follow.
Speaking to Vulture on his creation of Shuri, Hudlin said he had two very important reasons for creating T'Challa's sister. The first was because it seemed wrong to him that T'Chaka would only have one child. Royalty usually goes in for the heir and the spare, a la Princes William and Harry in the UK.
Shuri Was Born To Be A Black Panther
But since women are equal to men in Wakanda, that meant that Shuri had to be a woman who could conceivably suit up should her brother be killed without having offspring of his own.
I wanted everyone who read the book to be empowered. I wanted girls who read the book to feel as empowered as boys. So, I wanted her to be smart and tough and brave and everything you think of as a Black Panther, so that eventually she would be a Black Panther as well. Basically, I wanted a Halloween costume for my son and my daughter.
That's why the above image of Shuri and T'Challa looking at two Black Panther suits got many comic fans excited. Are they his-and-hers suits?
Shuri Want Her Right To The Suit, But She's No Villain
Hudlin made the character someone who wants to grow up and take up the mantle of the Panther and who is willing to challenge the elder men in her family for the right to stand as an equal to her brother.
But she's no power-hungry villain. When Ulysses Klaue attacks Wakanda, she takes up the Ebony Blade to help defend her home, only to kill someone for the first time. It's a shocking moment for her, one that teaches her the value of life and who she is as a person — and how far she needs to go to become a leader.
Could There Be A Spinoff?
Not that Chadwick Boseman is going anywhere anytime soon, and certainly not in the middle of his first standalone film anchoring a bankable franchise. But maybe as a spinoff down the line?
In an interview with Comic Book Movie, Letitia Wright said the timing would have to be right.
I hope, whenever the time is right, if it's meant to happen, I would happily do it. But you can't have a Shuri movie without T'Challa and you can't have a Shuri movie without Ramonda and Nakia and the rest of the Dora Milaje and Okoye. So, I guess, the question is: when can we have Black Panther 2?
When indeed? Black Panther opens in theaters Friday, Feb. 16, 2018.