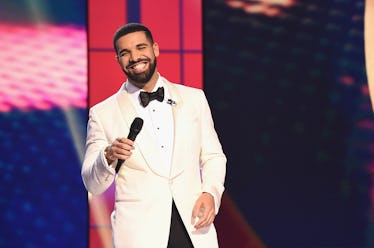 Drake Is Developing A Netflix Show & No, It's Not A 'Degrassi' Reboot
Michael Loccisano/Getty Images Entertainment/Getty Images
Say goodbye to Drake the rapper, at least for a little while. The guy that brought you "Hotline Bling" and "One Dance" is stepping away from music this year and going back to his roots in television. Now, Drake is teaming up with Netflix to release his first TV show since starring in the Canadian teen soap Degrassi in his youth. Drake opened up about his new Netflix show in a profile in the Hollywood Reporter.
Drake is adapting the British crime drama Top Boy for Netflix, revealing that it is set to premiere on the streaming service in 2019. Apparently, Drake got hooked on the short-lived 2011 series when he stumbled upon it on YouTube a couple years ago, and has been obsessed with it ever since. The original show is focused on drug dealers and gang members in an impoverished section of London, and only consisted of eight episodes. According to Netflix execs, it was Drake's passion for the show that was pivotal in the adaptation getting picked up, and now he's an executive producer on the project. It sounds like his work will mostly be behind the scenes on the new show, but there's always a chance that he may act as well.
And Top Boy isn't the only TV and film project Drake is focusing on right now — he recently starred in and produced the Vince Carter documentary The Carter Effect, and he said he's interested in adapting the work of fellow Toronto native Margaret Atwood as well. A couple months ago, Atwood suggested that Drake cameo on her Hulu adaptation The Handmaid's Tale, but Drake said he's more interested in possibly bringing another one of the author's stories to life on the screen.
With this newly rekindled focus on his TV and film career, music fans are probably wondering how this will be affecting his rapping. Unfortunately, Drake is not going to be releasing music any time soon. He revealed that he will be stepping back from music for the next six months to a year while he focuses exclusively on producing movies and TV shows.
I'm sure I'll stop [making music] one day... But right now it feels like we just started, so I don't plan on stopping anytime soon. But I do plan on expanding — to take six months or a year to myself and do some great films. Music's always there.
As any person who loves a good teen drama knows, Drake actually got his start in television before becoming more well-known for his music career. He starred as Jimmy Brooks, a basketball star who becomes paralyzed from the waist down after a school shooting, in the long-running Canadian soap Degrassi, as well as appearing in the 2007 teen dramedy Charlie Bartlett. Though he hasn't shown off his acting chops as much in the past decade, he did host Saturday Night Live twice over the past couple of years and had a bit part in Anchorman 2: The Legend Continues.
Although it's not too surprising to hear that Drake is making a big jump back from music into TV and film, it does mean that the radio will be missing his consistent Top 40 hits for the first time in nearly a decade. In particular, 2018 may be the first year since Drake's rap breakthrough in 2009 that one of his releases wasn't considered a frontrunner for the song of the summer, which many people awarded to him over the past few years for his ubiquitous hip-hop crossovers "Passionfruit," "One Dance," and "Hotline Bling."
Top Boy is scheduled to enter into production early next year and premiere on Netflix in 2019.