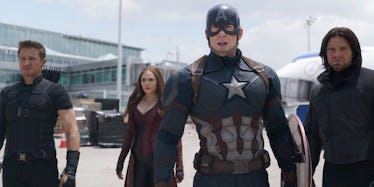 Disney Films Are Leaving Netflix, But 'Star Wars' And Marvel Films Could Stay
Marvel
When Disney's contract with Netflix ends in 2019, many of Disney's classic titles will be leaving the popular streaming service for good. Disney's plan is to start its own streaming site, to exclusively stream Disney and Pixar productions. But as you may know, Disney is a gigantic company that owns pretty much everything you love, including the new Star Wars films and Marvel franchises. So, now that Disney is leaving Netflix, what will happen to the Star Wars and Marvel films?
According to a report from Variety, Netflix is currently in "active discussions" with Disney, fighting hard to retain its streaming rights for Star Wars and Marvel titles after the two companies' partnership expire in 2019. However, whether or not a deal will be worked out remains to be seen. Netflix Chief Content Officer Ted Sarandos spoke to Reuters, stating that Disney's decision to launch its own streaming site is not unexpected. "That's why we got into the originals business five years ago, anticipating it may be not as easy a conversation with studios and networks," Sarandos said.
Disney announced plans for a still-unnamed streaming service on Tuesday, which will feature Disney's current titles on Netflix as well as all Disney and Pixar productions made after 2019, when the service will launch. The streaming service will also include films and show from Disney Channel, Disney Jr., and Disney XD.
Whether or not the streaming service will also include Disney-owned films like Star Wars: Rogue One, Captain America: Civil War, and Doctor Strange depends on how these current negotiations go. Netflix may have a special interest in holding onto its MCU films, as it is the studio behind the Marvel Netflix original series like Daredevil,  Jessica Jones, Luke Cage, Iron Fist and the upcoming The Defenders and The Punisher.
The news of Disney's pull out from Netflix comes the same week The Los Angeles Times reported Netflix has accumulated $20 billion in debt in its effort to produce more original content. The future of the company may be in flux.