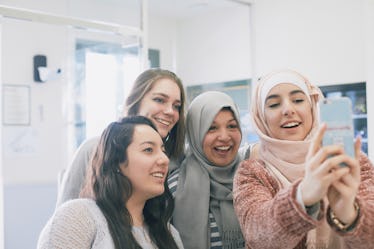 25 Thanksgiving Eve Captions That'll Make You & Your Home Friends Nostalgic AF
Thanksgiving is something to look forward to for many, many reasons. There's the delicious food, the family, the time off, and the good vibes you get from this festive time of year. For all of those reasons and many more, it's a great time to add fresh new material to your Instagram. And you know what makes for the best content? All of those silly times you'll have with your best friends from home. After being away for a bit, you're going to need some bomb Thanksgiving Eve captions to use when you document your fabulous Friendsgiving this year.
I can't even describe how much I'm looking forward to seeing my high school friends this break, and I know a ton of people feel the same. Thanksgiving Eve is another term used for the get-together you have with your home crew, where you catch up and cause some trouble at the local bar (if you're 21 and up, of course). It's a great time to rehash old jokes, vent about current college or work-related drama, and possibly gush about how cute your old crush has become.
College friends are great, and we love them just as much, but there's definitely something about the high school friends who understand you on another level. From knowing you before you peaked out of that awkward tween stage, to getting ready for prom and taking far too many plandid pictures, your hometown friends are just an extension of yourself that no one else can really be. Captioning your Instagram snaps can be tough, especially if you have a ton of love for your group (as you most likely do), but here are some jump-off points for you to find those perfect words to capture the feels.
1. "I get by with a little help from my friends." — The Beatles
2. "It's always good to remember where you come from and celebrate it." — Anthony Burgess
3. "The language of friendship is not words but meanings." — Henry David Thoreau
4. "Ain't nobody f*ckin' with my clique." — Kanye West, Jay Z, Big Sean, "Clique"
5. "True friends will go to the end of the earth. Till they find the things you need." — Hannah Montana, "True Friend"
6. "True friendship knows no distance." — Unknown
7. "Friendship is always a sweet responsibility, never an opportunity." — Khalil Gibran
8. "And so we talked all night about the rest of our lives. Where we're gonna be when we turn 25. Keep thinking times will never change." — Vitamin C, "Graduation (Friends Forever)"
9. "No one could ever know me. No one could ever see me. Seems you're the only one who knows what it's like to be me." - The Rembrandts, "I'll Be There For You"
10. "Fun never falls too far from the treehouse." — Phineas and Ferb
11. "When you finally go back to your old home, you find it wasn't the old home you missed but your childhood." — Sam Ewing
12. "Friendship is like money, easier made than kept." — Samuel Butler
13. "A friend is someone who knows all about you and still loves you." – Elbert Hubbard
14. "Happiness is looking down on your hometown from a plane." — Unknown
15. "Ah, humor based on my pain." — Friends
16. "I may not always be there with you, but I will always be there for you." — Unknown
17. "Here come the meat sweats…" — Friends
18. "Just your friendly neighborhood troublemakers." — Unknown
19. "Our laughs? Limitless. Our memories? Countless. Our friendship? Endless." — Unknown
20. "It's Thanksgiving and we should not want to be together, together!" — Friends
21. "I awoke this morning with devout thanksgiving for my friends, the old and the new." — Ralph Waldo Emerson
22. "You can't have Thanksgiving without turkey. That's like Fourth of July without apple pie, or Friday with no two pizzas." — Joey, Friends
23. "It wouldn't be Thanksgiving without a little emotional scarring." - Friends
24. "There's something about hometowns that you never can escape. The triumphs and the tragedies, the tortured little fates. The welling of nostalgia and a feeling kind of strange. 'Cause despite the little changes, yeah, this place still feels the same." — Frank Turner, "Wessex Boy"
25. "My hometown memories are fresh." — Adele