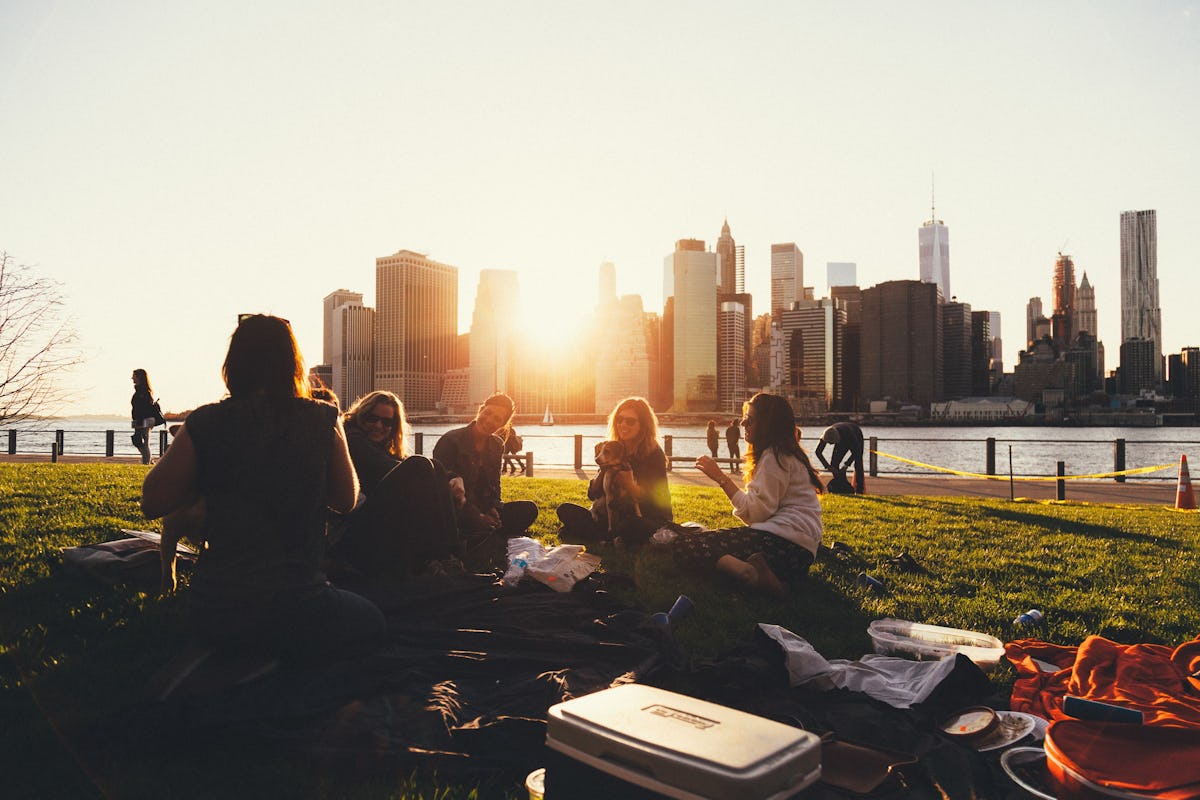 27 Friendsgiving Instagram Captions For The Good Food & Even Better Company
As we dip our toes into the holiday season, the festive hype is all too real, y'all. November is the month of delish food, apple and pumpkin-flavored treats, and good company. It's the one time of year when it's basically nationally mandated to tell the people you care for why you think they're so great (although, seriously, you should already be doing that every single day). It's essentially the time of year to celebrate the ultimate friendship holiday — aka, Friendsgiving. It's never too early to start prepping the foodie spread, decorations, and of course, a list ready to go of solid Friendsgiving Instagram captions for your forever squad.
Much like Thanksgiving, Friendsgiving is meant to be a time to gather with those closest to you, bond over seasonal delights, and catch up. Except, usually at Friendsgiving, there are a lot less family feuds. This year, prep your plans and get your best dish ready for the day, but don't worry about your Instagram captions. These 27 captions pair perfectly with the good food and even better friends.
1. "The secret to having it all is knowing you already do." — Unknown
2. "It's not what we have in our life, but who we have in our life that counts." —J.M. Laurence
3. "There are some people in life that make you laugh a little louder, smile a little bigger, and live just a little bit better." — Unknown
4. "Life is only as good as the people you get to share it with." — Darren Criss
5. "That's when I realized what a true friend was. Someone who would always love you — the imperfect you, the confused you, the wrong you — because that is what people are supposed to do." — R.J.L.
6. "Sometimes your circle decreases in size, but increases in value." — Unknown
7. "How did I get so lucky to have a friend like you?" — Unknown
8. "Thank you for being you, in a world full of somebody elses." — Mark Anthony
9. "There is always something to be thankful for." — Unknown
10. "Interrupt anxiety with gratitude." — Unknown
11. "Here's to those who inspire us and don't even know it." — Unknown
12. "Grateful for small things, big things, and everything in between." — Unknown
13. "A grateful heart is a magnet for miracles." — Unknown
14. "Let us be grateful to the people who make us happy; they are the charming gardeners who make our souls blossom." — Marcel Proust
15. "When you love what you have, you have everything you need." — Unknown
16. "Everybody has a home team: It's the people you call when you get a flat tire or when something terrible happens. It's the people who, near or far, know everything that's wrong with you and love you anyways. These are the ones who tell you their secrets, who get themselves a glass of water without asking when they're at your house. These are the people who cry when you cry. These are your people, your middle-of-the-night, no-matter-what people." — Shauna Niequist
17. "You've gotta stop watering dead plants." — Unknown
18. "You give me reasons to smile and reasons to laugh, but most of all, you give me memories I could never forget." — Unknown
19. "Find your tribe. Love them hard." — Unknown
20. "Some souls just understand each other upon meeting." — N. R. Hart
21. "You can't do epic sh*t with basic people." — Unknown
22. "... And then she knew you could become homesick for people, too." — Beau Taplin
23. "No one will ever be as entertained by us as us." — Unknown
24. "Sometimes memories sneak out of my eyes and roll down my cheeks." — Unknown
25. "A sweet friendship refreshes the soul." — Proverbs 27:9
26. "You're pretty much my most favorite of all time in the history of ever." — Unknown
27. "Keep the ones who heard you when you never said a word." — Unknown