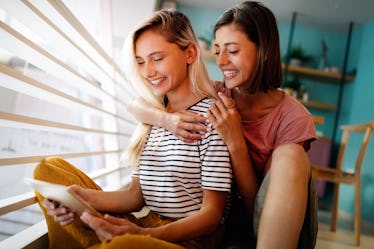 25 Sweet Quotes For Your First Valentine's Day With Your Love
Shutterstock
Valentine's Day is right around the corner, and you couldn't be more excited to spend your first one with bae. Since you're still fresh off getting hit with Cupid's arrow, this is your chance to start whatever Valentine's Day traditions you want together. Maybe that means reserving a table at a romantic candlelit restaurant, or watching your favorite rom-coms at home. Out of all the possibilities, the one you definitely need to do is take a selfie for Instagram, and pair it with one of these sweet quotes for your first Valentine's Day together.
Your relationship might be brand new, but your 'Gram game has always been on point. You can't wait to show the world how cute your Valentine is this year, so whether you plan on dressing up in a fun red outfit or getting cozy in sweatpants, make sure to snap a pic kissing your SO on the cheek. It may seem a little cheesy, but you have major heart eyes for your Valentine and want everyone to know it.
You don't want to waste a second of your first ever V-Day together, so make the posting easier on yourself. Instead of coming up with a caption on your own, use any of these 25 sweet Valentine's Day quotes. That way, you can get right back to having a very happy first Valentine's Day as sweethearts.
1. "It may be our first, but I want to spend all my Valentine's Days with you."
2. "The first time you fall in love, it changes you forever and no matter how hard you try, that feeling just never goes away." — Nicholas Sparks
3. "Thanks for making February 14 my new favorite day of the year."
4. "Warning: I'm one of those sappy, in love people on Valentine's Day now. Proceed with caution."
5. "I'm lucky I'm in love with my best friend." — Jason Mraz, "Lucky"
6. "Help! I've had my heart stolen this Valentine's Day."
7. "I was planning on spending Valentine's Day alone in sweats, but I guess you were a much better plan instead."
8. "I'm so lucky to have someone this year, but I'm still not sharing my chocolate."
9. "Cupid got me good this year."
10. "You're what I wished for. Nothing more and nothing less."
11. "The thought of our first kiss always makes me smile."
12. "Oops, I've fallen in love with you and I don't want to get up."
13. "It may sound cheesy, but you're a really grate Valentine."
14. "You are the best thing, that's ever been mine." — Taylor Swift, "Mine"
15. "I didn't know Valentine's Day could be this fun."
16. "Roses are red. Violets are blue. I'm so lucky to get to spend this day with you."See More
17. "And I don't know why but with you I'd dance in a storm in my best dress, fearless." — Taylor Swift, "Fearless"
18. "I could spend the whole day hugging you."
19. "Couples who selfie together, stay together."
20. "Remind me to send a thank you letter to Cupid."
21. "If I had a time machine, I would go back and spend every Valentine's Day with you."
22. "Current mood: [heart eye emojis]."
23. "On a scale of 1-10, you're a nine and I'm the one you need."
24. "I got dressed up for you on a weeknight, and that means I like you a lot."
25."We really #nailed this whole Valentine's Day thing. I think we should keep doing it for forever."
This article was originally published on