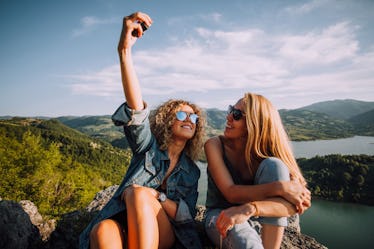 25 Captions For Your Summer Hiking Pictures, Because Nature Is Calling
Summer's here, which means you should head outside and bask in the sunshine. It's actually the perfect time to finally go on that hiking trip you and your friends have been talking about for weeks. Not only are you spending quality time with your squad, breathing in the fresh summer air, but you're also soaking up the beauty that nature is showing off this season. Along with your water bottle and snacks, don't forget to pack a camera for pics. Then, post the best scenic shot paired with any one of these Instagram captions for summer hiking pictures.
Maybe you have a group camping trip planned already. You'll spend your days hiking the trails, kayaking, and going mountain biking. It's true that no pictures will do your stunning surroundings justice, but you have to capture the moment to remember forever. Later that evening when you're sitting around the bonfire roasting marshmallows, you'll be able to post to the 'Gram easily with these 25 hiking captions already prepared for you. You don't have to spend time coming up with the right words, because with those views, you'll be too busy being in awe, anyway. Snap, caption, post, and get back to enjoying what will be the best summer ever.
1. "Always take the scenic route." — Unknown
2. "Let's wander where the Wi-Fi is weak." — Unknown
3. "Oh, darling, let's be adventurers." — Unknown
4. "Adventure is out there." — Up
5. "Of all the paths you take in life, make sure a few of them are dirt." — John Muir
6. "In every walk with nature, one receives far more than he seeks." — John Muir
7. "May your trails be crooked, winding, lonesome, dangerous, leading to the most amazing view. May your mountains rise into and above the clouds." — Edward Abbey
8. "Hike more, worry less." — Unknown
9. "Ain't about how fast I get there. Ain't about what's waiting on the other side. It's the climb." — Miley Cyrus, "The Climb"
10. "Welcome to our place in the woods." — Unknown
11. "Find your wild." — Unknown
12. "There is no Wi-Fi in the forest, but I promise you will find a better connection." — Unknown
13. "Take nothing but pictures, leave nothing but footprints, kill nothing but time." — Aliyyah Eniath
14. "Blessed are the curious, for they shall have adventures." — Lovelle Drachman
15. "I felt my lungs inflate with the onrush of scenery — air, mountains, trees, people. I thought, 'This is what it is to be happy.'" — Sylvia Plath
16. "I would rather own little and see the world, than own the world and see little of it." — Alexander Sattler
17. "You're off to Great Places! Today is your day! Your mountain is waiting, so get on your way!" — Dr. Seuss
18. "Not all who wander are lost." — J.R.R. Tolkien
19. "There are two kinds of climbers: those who climb because their heart sings when they're in the mountains, and all the rest." — Alex Lowe
20. "There are no shortcuts to any place worth going." — Beverly Sills
21. "Climbing is as close as we can come to flying." — Margaret Young
22. "Do not go where the path may lead, go instead where there is no path and leave a trail." — Ralph Waldo Emerson
23. "Hiking and happiness go hand in hand (or foot in boot)." — Diane Spicer
24. "Never measure the height of a mountain until you have reached the top. Then you will see how low it was." — Dag Hammarskjold
25. "The mountains are calling and I must go." — John Muir