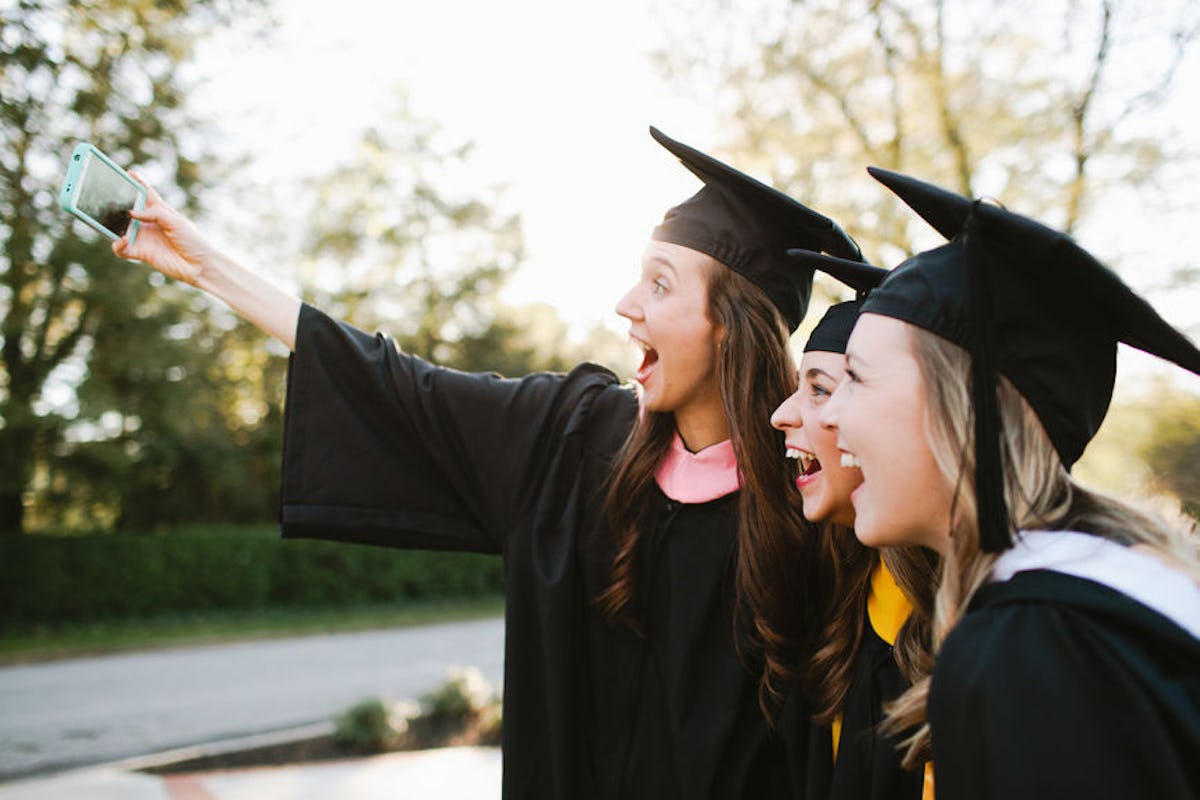 25 Graduation Quotes For Instagram That'll Give You All The Feels
You've been counting down the days until graduation, and it's finally here. It's a major milestone in your life, and prime time to celebrate all the hard work you've put into your degree the past four years. As exciting as the day is, it'll be over within the blink of an eye. You'll want to make the most of it, and you'll be busy moving your tassel to the other side, tossing your cap in the air, and hugging all of your college BFFs as if you'll never let go. Don't let those memories fade, and instead, take as many pictures as possible and pair them with graduation quotes for Instagram.
I still look back at pictures of my graduation, and it just reminds me of all the good times I experienced. From pictures of me and my friends, to candid shots my mom took of me walking across the stage, I cherish them all. It's much easier reminiscing when you have the pictures on Instagram, and a beautiful photo deserves an equally as wonderful caption to go with it.
For graduation, you'll want something that perfectly describes your feels. A great quote is a simple way to express all of that with a few words, so when you're in a rush to the afterparty, use any of these 25 caption ideas. It's your big day, so live in the moment and keep those memories forever.
1. "Behind you, all your memories. Before you, all your dreams. Around you, all who love you. Within you, all you need." — Unknown
2. "What feels like the end is often the beginning." — Unknown
3. "Take pride in how far you've come. Have faith in how far you can go. But don't forget to enjoy the journey." — Michael Josephson
4. "It always seems impossible until it's done." — Nelson Mandela
5. "Be fearless in the pursuit of what sets your soul on fire." — Jennifer Lee
6. "What she tackles, she conquers." — Gilmore Girls
7. "This is the beginning of anything you want." — Unknown
8. "You're off to great places! Today is your day! Your mountain is waiting, so get on your way!" — Dr. Seuss
9. "I don't know where I'm going, but I'm on my way." — Carl Sandburg
10. "I can and I will. Watch me." — Carrie Green
11. "Don't cry because it's over. Smile because it happened." — Dr. Seuss
12. "The future belongs to those who believe in the beauty of their dreams." — Eleanor Roosevelt
13. "The tassel was worth the hassle." — Unknown
14. "It takes courage to grow up and become who you really are." — E. E. Cummings
15. "Every accomplishment starts with the decision to try." — John F. Kennedy
16. "The thing about new beginnings is that they require something else to end." — Gossip Girl
17. "The two most important days in your life are the day you are born, and the day you find out why." — Mark Twain
18. "With brave wings, she flies." — Devin O'Branagan
19. "Wherever you go, go with all your heart." — Confucius
20. "I think I'm quite ready for another adventure." — Lord of the Rings
21. "The best is yet to come." — Frank Sinatra, "The Best Is Yet To Come"
22. "The beautiful thing about learning is that nobody can take it away from you." — B.B. King
23. "I never dreamed about success. I worked for it." — Estee Lauder
24. "Go forth and set the world on fire." — St. Ignatius of Loyola
25. "Nothing can dim the light which shines from within." — Maya Angelou