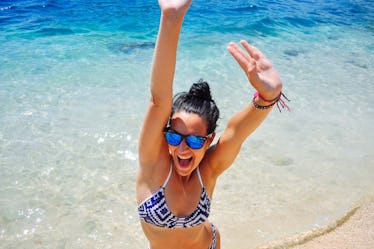 25 Clever Captions For Beach Pictures, Because You're Salty Summer's Ending
Long beach days are sadly coming to a close. You've had your fun in the sun, though, and can't say you didn't take advantage of all of that vitamin sea. Whether you're a tad salty or have come to terms with the fact that the upcoming season will draw you away from the shoreline, clever captions for beach pictures should sum up your feels in a nutshell.
The beach is always difficult to leave, especially when you've spent your whole summer watching the sun rise and set from the sand. Luckily, you'll have your pictures to look back on those beach bum days, and you can anticipate making your way back next year. You're likely smiling from ear-to-ear with sand in your toes and a messy bun, so you can't have a sour caption.
The beach isn't going anywhere, even if summer is doing its disappearing act once again. (Seriously, why does it always do this?) If you're spending Labor Day weekend at the beach, lucky you. That three-day weekend is the perfect time to take those farewell pics of you enjoying what's left of your beloved beach days. I'm not blaming you. The end of summer struggle is so real, but any of these 25 captions will only add a funny and optimistic tone to your pics.
1. "Dear beach, your the piña to my colada." — Unknown
2. "I'm just your average beach bum." — Unknown
3. "I'm sorry for what I said when I wasn't at the beach yet." — Unknown
4. "Are you gonna get that? The waves are calling." — Unknown
5. "I'm done adulting. Let's go to the beach." — Unknown
6. "It's beach o'clock somewhere, right?" — Unknown
7. "Everyone should believe in something. I believe that I should go to the beach." — Unknown
8. "It was love at first sight the day I met the beach." — Unknown
9. "If you need me I'll be beachin'." — Unknown
10. "All you need is love and the beach." — Unknown
11. "Toes in the water. Butt in the sand." — Unknown
12. "Party like a lob-star." — Unknown
13. "I'm not myself when I'm not at the beach. Sorry." — Unknown
14. "Toes in the sand. Drink in my hand." — Unknown
15. "Can I just own a house on the beach already?" — Unknown
16. "Take me to the beach and I'll be your friend forever." — Unknown
17. "Forget adulting. Let's go and be mermaids for a bit." — Unknown
18. "If you're not barefoot, then you aren't in the right place." — Unknown
19. "Don't make me slap you with my flip flops." — Unknown
20. "Beach more and you'll worry less." — Unknown
21. "Keep your spirit salty and your toes sandy." — Unknown
22. "If you're lucky enough to live at the beach, you're lucky enough." — Unknown
23. "How could I possibly learn to relax anywhere else?" — Unknown
24. "I'm here because the beach accepts me and my messy hair buns." — Unknown
25. "The beach is the only place where it's acceptable to be salty the entire day." — Unknown