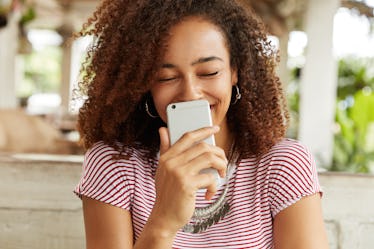 24 Random Facts For Your Hinge Profile That'll Make You Stand Out
Shutterstock
One of the highlights of using Hinge, without a doubt, is the prompts. Not only do they allow you to learn interesting details about your matches while sharing some about yourself, but they serve as the perfect conversation starters, too. If there's one underrated prompt worth answering, it's this: "A random fact I love is." And you're in luck, because I've rounded up a slew of random facts for your Hinge profile that'll make you stand out.
The key to attracting more matches and sparking up more convos is obviously to build a profile that's creative and eye-catching — and this particular prompt offers the opportunity to achieve just that by peppering in some funny, random facts. You know, the kind of info that will make that cutie scoping out your profile stop scrolling.
Fortunately, the internet is brimming with all kinds of weird and fascinating tidbits about everything from animals and etymology to the royals and food. For example, did you know that the reason otters hold hands is to avoid floating away from their partner while they're sleeping? Or that high heels were originally worn by men?
I've got plenty of more winning Hinge prompt answers where that came from. Read on to find the perfect factoid that'll wow your prospects — or at the very least, make them LOL.