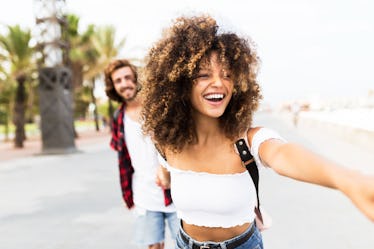 24 End Of The Week Quotes For Instagram, Because Saturday Can't Come Soon Enough
Weekends are always cause for celebration. You've been working hard all week long, coping with late nights and early mornings, and it's time for you to take a well-deserved break. If you're uncorking a bottle of rosé at the office at 5 p.m. on Friday, or taking a selfie with your coffee mug to commemorate another successful week in the books, here are some end of the week quotes for Instagram captions that'll pump you up for the best days of the week.
Let's be honest: Everyone needs to decompress every once in a while. Working seven or eight hours a day, five days a week (sometimes more) can be extremely tiring. And that's not to say that you're not happy to be working or in school — you just need a break to relax. The weekend is a great time to recalibrate and reset, as well as set your goals for the next week.
Whether you're planning on taking a day trip to the city with the girls, or just spending a couple days curled up with a book and glass of wine, take the time to fully enjoy your weekend. Make some memories and document them for the 'Gram.
1. "Happy Fri-yay!" — Unknown
2. "Better days are coming. They're called Saturday and Sunday." — Karen Salmansohn
3. "Hello Friday. I've been waiting for you." — Unknown
4. "Friday is my second favorite F word." — Unknown
5. "It's always five o'clock somewhere." — Unknown
6. "Proof of success is how tired I am at the end of the week." — Unknown
7. "Can't decide if I need a hug, an extra large coffee... or two weeks of sleep." — Unknown
8. "The only happy end that I know is the weekend." — Unknown
9. "Don't count the days. Make the days count." — Muhammad Ali
10. "Friday: The golden child of the weekdays. The superhero of the work week. The welcome wagon to the weekend." — Unknown
11. "It's Friday, b*tches." — Unknown
12. "I really need a day between Saturday and Sunday." — Unknown
13. "It's Thursday. I can smell the weekend from here." — Unknown
14. "It's the weekend. Beast mode: OFF." — Unknown
15. "Ah, Sunday. A day of rest. The REST of the laundry, the REST of the house, and the REST of the stuff I put off on Saturday." — Unknown
16. "You know what I want to do? Wake up one weekend and not have to go anywhere and do nothing." — Derek Jeter
17. "Music always sounds better on Friday." — Lou Brutus
18. "Sunday clears away the rust of the whole week." — Joseph Addison
19. "Always strive to excel, but only on weekends." — Richard Rorty
20. "Friday: The famous F word we thank god for every week." — Unknown
21. "There's just one legitimate synonym for Friday: BOOM SHAKALAKA!" — Unknown
22. "The only thing I throw back on Thursday is a glass of wine." — Unknown
23. "Saturday's to-do list: Nothing." — Unknown
24. "Cheers to the freakin' weekend." — Rihanna, "Cheers (Drink To That)"