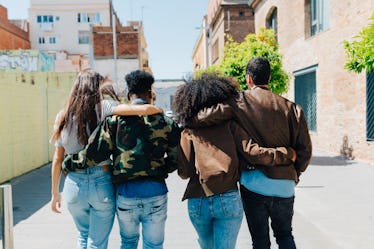 24 Senior Year Captions That Are Cute & Bittersweet, So Hug Your Crew Tight
Where did the time go? It seems like yesterday you were making your way to your first class as an incoming freshman, and now you're a senior. This fall will likely be the last first day of school for you, and to capture those bittersweet moments with your besties, a supply of cute senior year captions are in order.
It's truly nostalgic entering your final year of college. You've learned so much since you started attending your particular university, made the best group of friends, and experienced so many epic times. By year's end, you'll be expected to apply your knowledge to the real world. This year is going to be so surreal, and you'll wonder, "How the heck did I get here already?"
The friends you've made in college are going to be your lifetime besties, and you can't wait to see what you all do after graduation. But hey, the year is still young, so make sure to live your senior year to the fullest, because graduation is going to sneak up on you. Don't worry too much about post-college jitters, because you aren't going to have it all figured out by graduation — and that's totally OK. For now, give that senior year glow of yours a little extra shine with any of these 24 senior year captions for your pics.
"It's so hard to say goodbye to yesterday." — Boyz II Men, "It's So Hard To Say Goodbye To Yesterday"
"Does this smile make me look like a senior?"
"Is it too late to be a freshman again?"
"It's my last first day and I couldn't be more excited!"
"I don't know where I'm going from here, but I promise it won't be boring." — David Bowie
"I'm gonna wing it."
"One day, you're 17 and you're planning for someday. And then quietly, without you ever really noticing, someday is today. And then someday is yesterday. And this is your life." — John Green
"In the book of life, the answers aren't in the back."
"You're gonna miss me when I'm gone." — Anna Kendrick, "Cups"
"Beautifully in over my head."
"If it doesn't challenge you, it doesn't change you." — Fred DeVito
"This is the part where you find out who you are." — The Maine, "Whoever She Is"
"We're almost there and nowhere near it. All that matters is we're going." — Gilmore Girls
"You did not come this far to walk away without the victory."
"This is just a part of growing up. A little adventure, a little rebellion." — Tangled
"There are far, far better things ahead than any we leave behind." — C.S. Lewis
"I don't know where I'm going, but I'm on my way." — Carl Sandburg
"To graduate would be an awfully big adventure."
"Dear Past, thank you for all the lessons. Dear Future, I'm ready."
"I wish I could read this next chapter of my life twice."
"It's been one blur of fun." — Lilly Pulitzer
"The best is yet to come." — Frank Sinatra, "The Best Is Yet To Come"
"This is the beginning of anything you want."
"This moment will just be another story someday." — Stephen Chbosky
This article was originally published on