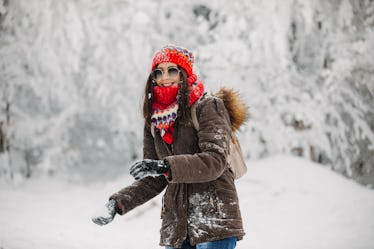 23 Winter Break Captions For Snow Ballin' Good Times At Home
bojanstory/E+/Getty Images
The winter break state of mind includes counting down the days until you can close up your books and totally chill. This year's winter break will look quite different due to the ongoing coronavirus pandemic, but you can still celebrate your academic freedom at home by yourself or with your housemates. You have plenty of time to break out your winter crafts, light up your evergreen-scented candles, get cozy with the house crew, and document the great times on your feed for your followers to live vicariously through. When it comes time to post all of your memories, these winter break Instagram captions will be the sweetest addition to your "living my best winter break life in my pjs" pics.
According to the Centers for Disease Control and Prevention, staying home with your immediate household and avoiding any sort of travel is the safest method to prevent yourself and others from contracting and/or spreading the coronavirus. You might not be able to head back to your hometown or hop on a plane to hit the slopes this winter break, but you can seize the opportunity to focus on new activities for silly, unique, and fun winter break Instagram pictures.
You can live it up at home in more ways than one. When it comes to silly and unique content, consider building your very own Schitt's Creek motel fort with snow or a bunch of cardboard boxes. Or, why not grab your housemates and plan an après ski-inspired afternoon in your backyard? For super fun pics, whip up some wintry cocktails (if you're 21 or up), grab your s'mores supplies, and prepare a hot chocolate charcuterie board. Break out your neon beanies, scarves, and mittens, because whatever you decide to do at home this break will be awesome. Get ready to snap pictures all your followers will envy, and pair them with these witty winter break Instagram captions.
1. "No more books until spring."
2. "Who knew après ski at home could be so much fun?"
3. "Peace out college, hello winter break."
4. "In my pjs until spring."
5. "It's a snow ballin' kind of day."
6. "Living our best winter break lives on the couch."
7. "Mittens, beanies, and hot chocolate bombs… oh my."
8. "Spirits are merry and bright."
9. "The best thing about winter is the break."
10. "Gone TikToking in the backyard."
11. "Winter state of mind."
12. "We live for winter break."
13. "Sledding into winter like…"
14. "Snow ballin' through life rn."
15. "Who's on cookie duty today?"
16. "Merry everything and a happy always."
17. "Without school, it's really hard to know what day of the week it is."
18. "Gonna sleigh this afternoon."
19. "Sleep, eat, play, repeat."
20. "Who's making waffles?"
21. "Cozy winter candles are my jam."
22. "Still grillin' and chillin'."
23. "The winter vibes are strong with this one."
This article was originally published on