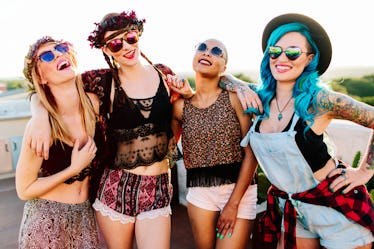 23 Instagram Captions For Your Hot Mess Spring Break Pics, Because YOLO
Today, Instagram serves as a digital map of where you've been — because if it wasn't posted on social media, did it even really happen? During spring break, you want the whole world to know that you are super far away from even the thought of a classroom. In fact, "school" is basically the forbidden word as you and your ladies have fun under the sun for countless hours and days. And in between all of that euphoria of fun, at least one of you will be captured doing something so hilariously outlandish. That's when you'll need Instagram captions for your hot mess spring break pics.
The best stories always surround a situation that produced a hot mess. Just think about it — a hot mess could range from so many different things. Someone could have fallen asleep in the bathtub or decided to take the whole box of cold pizza with them into bed for a late breakfast. Who knows? The possibilities are limitless, and with that carefree, YOLO attitude of yours, spring break is bound to be full of eventful, memorable experiences. Don't let those epic times fall void to a half-baked caption, though. Any of these will definitely add some extra sizzle to your hot mess snaps throughout spring break.
1. "Life is all about having a good time." — Miley Cyrus
2. "Nothing's better than the wind to your back, the sun in front of you, and your friends beside you." — Aaron Douglas Trimble
3. "We are the kids your parents warned you about." — Unknown
4. "Let's do some 'we shouldn't be doing this' things." — Unknown
5. "You did not wake up today to be mediocre." — Unknown
6. "Life is either a daring adventure or nothing at all." — Helen Keller
7. "I finally figured out the only reason to be alive is to enjoy it." — Rita Mae Brown
8. "Here's to the nights we don't remember and the friends we won't forget." — Lee Brice
9. "True friends don't come with conditions." — Aaron Lauritsen
10. "If you want to have the time of your life, change how you use the time in your life." — Tim Fargo
11. "Life is too short not to live it up a little." — Unknown
12. "When was the last time you did something for the first time?" — Darius Rucker
13. "You can't do epic sh*t with basic people." — Unknown
14. "Never, ever underestimate the importance if having fun." — Randy Pausch
15. "No one looks stupid when they're having fun." — Amy Poehler
16. "A photograph shouldn't be just a picture, it should be a philosophy." — Amit Kalantri
17. "If a picture paints a thousand words, then a let a picture inspire a thousand words." ― Nicholas Boyd Crutchley
18. "My advice for life: dance and sing your song while the party is still on." ― Rasheed Ogunlaru
19. "If I show up on your doorstep don't worry I'm just there to party." ― Kenny D. Eichenberg
20. "Sunrise is starting to feel like a guilt trip." ― Kris Kidd
21. "Let the waves hit your feet, and the sand be your seat." — Unknown
22. "Sometimes you must do crazy things to discover the life beyond your life, to enter the unknown zone beyond your known zone!" ― Mehmet Murat ildan
23. "Friends will always be there for the party. REAL friends will be there after the party..." — Bray Love
Your spring break is one of those epic times in college spent with your best friends. Whether you guys are riding the waves or running along the shoreline, live it up the only way you know how to.