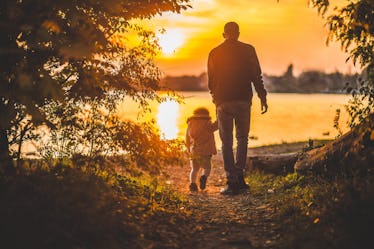 22 Thanksgiving Quotes For Instagram That Capture How Incredibly #Blessed You Feel
We're all about to head on home and see our loved ones to celebrate the blessed holiday known as Thanksgiving — aka, Turkey Day. Being around your family can be just as incredible as it can be super stressful when you're trying to make sure everything goes according to plan for the holiday. But, they're family nonetheless, and they have many moments when they make you feel amazing — so much so that you may want to highlight how grateful you feel to your social media followers. Thanksgiving quotes for Instagram are definitely needed during this time, and they'll make your posts stand out just a little more.
Some people are against long quotes, and others just prefer emojis. Whatever your style is, there are a ton of things to choose from. Whether it's your favorite feel good movie, or a poem you found in one of those trendy books in the bookstore, thankfulness can be found and expressed anywhere. And at the end of the day, it's about that feel good vibe Thanksgiving gives us and how it really makes you think about your blessings. Blessings can mean different things for different people, and whether it's feeling unconditional love for your dog, your food, your friends, or your parents, hopefully at least one of these quotes can work on your 'Gram.
1. "Be thankful for what you have; you'll end up having more. If you concentrate on what you don't have, you will never, ever have enough." — Oprah Winfrey
2. "Let us be grateful to the people who make us happy; they are the charming gardeners who make our souls blossom." — Marcel Proust
3. "I want to thank you falettinme Be mice elf agin" — Sly & the Family Stone, "Thank You (Falettinme Be Mice Elf Agin)"
4. "I would maintain that thanks are the highest form of thought, and that gratitude is happiness doubled by wonder." — Gilbert K. Chesterton
5. "Say a prayer, but let the good times roll." — Fall Out Boy, "Thnks Fr Th Mmrs"
6. "We must find time to stop and thank the people who make a difference in our lives." — John F. Kennedy
7. "I would give up everything/Before I'd separate myself from you." — Mariah Carey, "Thank God I Found You"
8. "Some people are always grumbling that roses have thorns; I am thankful that thorns have roses." — Alphonse Karr
9. "They do not love, that do not show their love." — William Shakespeare
10. "We can only be said to be alive in those moments when our hearts are conscious of our treasures." — Thornton Wilder
11."We should certainly count our blessings, but we should also make our blessings count." — Neal A. Maxwell
12. "Give thanks for a little and you will find a lot." — Hansa Proverb
13. "'Thank you' is the best prayer that anyone could say. I say that one a lot. Thank you expresses extreme gratitude, humility, understanding." — Alice Walker
14. "You should be thankful of all you got. Wakin up in the mornin, seein the sun rise... Is enough to say I thank you, Lord." — Natalie Cole, "Be Thankful"
15. "You're a blessing to me. What did I do to deserve... There's no words that could describe... How much I thank you." — Celine Dion, "Thank You"
16. "Gratitude unlocks the fullness of life." — Melody Beattie
17. "I wanna thank you. Darling I wanna love you." — Otis Redding, "I Want To Thank You"
18."The struggle ends when gratitude begins." — Neale Donald Walsh
19."When you love what you have, you have everything you need." — Unknown
20."Feeling gratitude and not expressing it is like wrapping a present and not giving it." — William Arthur Ward
21."Blessed for everything you've given me; Blessed for all the tenderness you show; Do my best with every breath that's in me; Blessed to make sure you never go." — Christina Aguilera, "Blessed"
22. "I know myself. So blessed to be." — Ty Dolla $ign, "Famous Last Words"