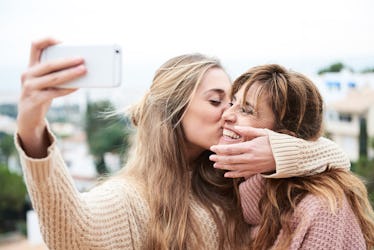 22 Instagram Captions For Your Mom's Birthday That'll Give Her All The Feels
Mom deserves to be celebrated every single day for the incredible human she is. She brought you into this world, took care of you, delivered the best advice when you needed it most (and continues to do so), and she put up with all of your teen drama when you were going up. She is a queen inside and out, and of course she deserves to be treated as such every day — but most especially on her birthday. You certainly have to find the best Instagram captions for your mom's birthday post.
Despite what your mother thinks, she's the coolest person you know, and of course you're going to shine a spotlight on her all over your feed. She taught you right from wrong, and shaped you into the person you are today. Everyone argues with their parents every now and then, however, that doesn't delete the fact that your mom is the most important woman in your life.
You have your inside jokes with your mom, along with your favorite movies to watch together — so you might get your Insta caption inspo from there. But if you are looking for some good quotes or one-liners to show your followers just how much you love her, these are definitely going to work. From Leonardo DiCaprio to Kanye West, these quotes will make your mom smile.
1. "My mother is a walking miracle." — Leonardo DiCaprio
2. "As is the mother, so is the daughter." — Ezekiel 16:44
3. "All that I am, or hope to be, I owe to my angel mother." — Abraham Lincoln
4. "I don't know why all the trees change in the fall, but I know you're not scared of anything at all. Don't know if Snow White's house is near or far away, but I know I had the best day with you today." — Taylor Swift, "The Best Day"
5. "Some days, she has no idea how she'll do it. But every single day, it still gets done." — Unknown
6. "Mom: A title just above Queen." — Unknown
7. "Once you're a mom, always a mom. It's like riding a bike, you never forget." — Taraji P. Henson
8. "Everything I am, you helped me to be." — Unknown
9. "My mom smiled at me. Her smile kind of hugged me." — R.J. Palacio
10. "Mama you taught me to do the right things. So now you have to let your baby fly." — Carrie Underwood, "Mama's Song"
11. "Mother's love is peace. It need not be acquired, it need not be deserved." — Erich Fromm
12. "Life began with waking up and loving my mother's face." — George Eliot
13. "So mother, I thank you for all that you've done and still do. You got me, I got you. Together we always pull through." — Christina Aguilera, "Oh Mother"
14. "I smile because I am my mother's daughter. I laugh because there's nothing she can do about it." — Unknown
15. "Mom: first my mother, always my friend. Forever together, our love never ends." — Unknown
16. "(Hey Mama) I wanna scream so loud for you, 'cause I'm so proud of you." — Kanye West, "Hey Mama"
17. "Out of all the moms in the world, I am so glad you are mine." — Unknown
18. "Being a mother is an attitude, not a biological relation." — Robert A. Heinlein, Have Space Suit—Will Travel
19. "Mom was right about everything." — Unknown
20. "Nothing is lost until your mother can't find it." — Unknown
21. "I get it from my mama." — Unknown
22. "If I turn into my mother, or even half the woman she is, I'll consider my life a successful one." — Unknown