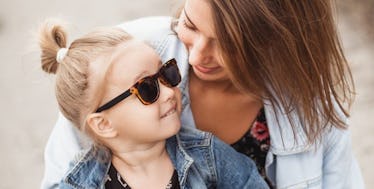 22 Instagram Captions To Make Your Post For Mom Extra Special On Mother's Day
Many of us are still deciding on the perfect way to spoil Mom this Mother's Day.
She's altered her life to revolve around her children, and she truly deserves the world (and so much more) in return.
As thoughtful as an exquisite bouquet of roses can be, how can that alone signify just how much we appreciate her?
Mom deserves to be pampered, and most of us communicate our love for her through words, whether they're presented in a beautiful card, poem or social media post.
Words are translated directly from the heart, which is what makes them so spectacular, unique and candid. They last a lifetime, and material items have nothing on them.
So, when you're prepping your sweet Mother's Day picture this year, here are 22 quotes that will make your post extra special (and sappy) for Mom.
You may decide to write something for her in your own words, or you can use one of these quotes as the cherry topping to your Instagram caption.
1. "The older I grow, the more I realize my mom is the best friend I ever had." — Unknown
2. "Everything I am, you helped me to be." — Unknown
3. "Where you lead, I will follow." — Carole King ("Gilmore Girls" fans, REPRESENT)
4. "Mothers hold their children's hands for a short while, but their hearts forever." — Unknown
5. "The beauty of a woman is not in the clothes she wears, the figure that she carries, or the way she combs her hair. The beauty of a woman is seen in her eyes, because that is the doorway to her heart, the place where love resides." — Audrey Hepburn
6. "Mothers and their children are in a category all their own. There's no bond so strong in the entire world. No love so instantaneous and forgiving." ―Gail Tsukiyama
7. "No matter how old she may be, sometimes a girl just needs her mom." — Unknown
8. "When you look at your mother, you are looking at the purest love you will ever know." — Mitch Albom
*Insert cute, candid picture of the two of you smiling at each other*
9. "True beauty in a woman is reflected in her soul. It's the caring that she lovingly gives, the passion that she shows, and the beauty of a woman only grows with passing years." — Audrey Hepburn
10 "All that I am or ever hope to be, I owe to my angel mother." — Abraham Lincoln
11. "The best place to cry is on a mother's arms." — Jodi Picoult
12. "A daughter is a little girl who eventually grows up to be her mom's best friend." — Unknown
13. "You will be blessed the moment you realize you already are." — Bryant McGill
14. "My mother... she is beautiful, softened at the edges and tempered with a spine of steel. I want to grow old and be like her." — Jodi Picoult
15. "Of all the gifts that life has to offer, a loving mother is the greatest of them all." — Unknown
16. "Mom: A title just above Queen." — Unknown
17. "No matter how much I say I love you, I always love you more than that." — Unknown
18. "Call your mother. Tell her you love her. Remember you're the only person who knows what her heart sounds like from the inside." — Rachel Wolchin
19. "A mother is your first friend, your best friend, your forever friend." — Unknown
20. "Your love has always been my anchor." -- Unknown
21. "Always my mom, forever my friend." -- Unknown
22. "Life doesn't come with a manual, it comes with a mom." -- Unknown