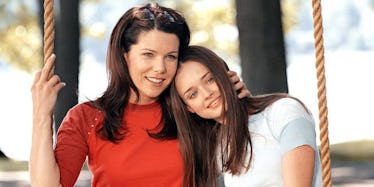 7 Sweet Things To Do For Mom On Mother's Day When You're Broke
Warner Bros.
From the moment we popped out of the womb, many of us instantly fell in love with our moms.
If you're #blessed to call your mom your best friend, she has probably been your number one fan and cheerleader since day one.
Mom is there every single step of the way, watching you reach your goals and supporting you as you pursue your dreams. She taught you nothing is ever out of reach, and the world is your oyster… so run with it.
Moms deserve to be celebrated everywhere on Mother's Day. But sometimes, your wallet just isn't quite up to the task.
Even if you're running on a tight budget, Mom will definitely fall in love with any creative, unique present that comes straight from your heart.
Here are seven sweet things to do for your mom on Mother's Day that won't totally drain your bank account.
1. Make brunch, complete with mimosas.
Lay out a beautiful tablecloth and pick a fresh bouquet of flowers from the garden for the perfect centerpiece.
If you're all about that DIY life, pick up a couple of mason jars to use as flower vases. Decorate them with glitter paint, and complete the look with adorable bows tied around each.
Whip up a batch of pancakes, eggs and muffins… and don't forget the mimosas.
2. Take her on a picnic lunch.
Plan on bringing Mom to one of her favorite parks, or surprise her by taking her somewhere she's never been before.
You can pack up your picnic basket with homemade fruit salad, chocolate chip cookies, sandwiches, iced tea and a comfy picnic blanket.
3. Set up a home spa.
Complete with cucumber lemon water, homemade face masks and manicures, what's not to love about this plan? Mom will appreciate getting pampered for the afternoon, and she deserves it.
If Mom has a hardcore sweet tooth, and a passion for gardening, this is an awesome present for her.
All you have to do is hit up a local craft store for some supplies, including the flower pot and styrofoam ball to attach the cupcakes to. The recipe calls for 24 miniature cupcakes, which you and your mom can decorate together with icing to resemble little flowers.
5. Design a memory box.
Pick up a beautiful box, or a whimsical glass jar, and get to decorating. Your mom may keep this gift on her nightstand, so consider the colors of her bedroom when you're DIY-ing.
Start filling up the memory box with anything your mom will forever cherish. Include some pictures of you guys together (and if you have any siblings, be sure to have pictures of them, too), as well as any trinkets you've collected over the years that remind you of your mom and any memories you've made together over the years.
6. Dabble in a little scrapbooking.
You may decide to decorate the first couple of pages yourself before giving it to Mom, or maybe you'll turn Sunday afternoon into a whole day of scrapbooking. Either way, this will definitely bring the two of you together.
7. Go hiking.
If your mom loves the outdoors, plan a hike near a picturesque location. Be sure to pack some snacks and water bottles, and don't forget to snap some cute pictures.
Moms will always and forever be the real MVPs, so get creative this Mother's Day to show her how much she means to you. You don't have to spend a lot to give her something really special.