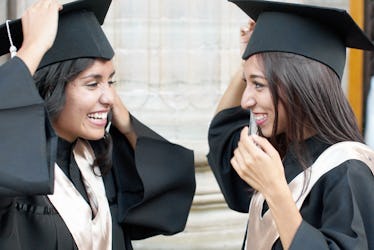 21 Senior Year Quotes For Insta That'll Make You Nostalgic & Hyped For The Future
If you're a senior, graduation is not something you can hide from — whether you want to or not. You've spent the countless hours in the library, and countless hours making unforgettable memories with your college besties. You've cried many tears over missed deadlines and paper-induced headaches. You've fueled up on coffee each morning, and established your favorite lunch spots on campus. You've kept up with a rigorous studying schedule, and are now seeing the light at the end of the tunnel. All of that hard work is going to pay off, and when you have that cute graduation picture with your crew, you're going to need some senior year quotes for Instagram to show your excitement and hope for what's to come.
The future can be a really scary thing. Don't worry, because everyone knows that and you're not alone. However, you have the skills and experience, and it's time to just think about all you can do with what you've learned. Taking graduation pics is one activity you have to do before the big day comes (along with what you're going to do the day of and after — aka, a lot of pictures are going to be taken). With all of that Insta-worthy material, finding the perfect lyric or quote can be tough. There are just so many to choose from. Here are some that are popular, yet just unique enough for your celebration of your big accomplishment.
1. "And as our lives change, come whatever, we will still be friends forever." — Vitamin C, "Graduation (Friends Forever)"
2. "Build your own dreams, or someone else will hire you to build theirs." — Farrah Gray
3. "Here and now, it's time for celebration. I finally figured out that all our dreams have no limitations." — Troy Bolton, High School Musical, "We're All In This Together"
4. "It doesn't matter that your dream came true if you spent your whole life sleeping." — Jerry Zucker
5. "Success is like a mountain that keeps growing ahead of you as you hike it... Err in the direction of kindness." — George Saunders
6."My wish, for you, is that this life becomes all that you want it to, your dreams stay big, your worries stay small." — Rascal Flatts, "My Wish"
7. "The aim of education is the knowledge, not of facts, but of values." — William S. Burroughs
8. "Will we think about tomorrow like we think about now?" — Vitamin C, "Graduation (Friends Forever)"
9. "The trouble with learning from experience is that you never graduate." — Doug Larson
10. "You have to leave the city of your comfort and go into the wilderness of your intuition." — Alan Alda
11. "Whenever you remember times gone by, remember how we held our heads so high." — Carrie Underwood, "Whenever You Remember"
12. "It is impossible to live without failing at something, unless you live so cautiously that you might as well not have lived at all — in which case, you fail by default." — J.K. Rowling
13. "Now that you've graduated, just remember: Bosses don't usually accept notes from your mother." — Melanie White
14. "We're all in this together when we reach, we can fly." — High School Musical, "We're All In This Together
15. "Just remember, you can't climb the ladder of success with your hands in your pockets." — Arnold Schwarzenegger
16. "As we go on, we remember all the times we had together." — Vitamin C, "Graduation (Friends Forever)"
17. "There's a time a for joy, a time for tears, a time we'll treasure through the years, we'll remember always graduation day." — The Beach Boys, "Graduation Day"
18. "A graduation ceremony is an event where the commencement speaker tells thousands of students dressed in identical caps and gowns that 'individuality' is the key to success." –Robert Orben
19. "Go confidently in the direction of your dreams. Live the life you have imagined." — Henry David Thoreau
20. "We've arrived because we stuck together, champions one and all." — Sharpay Evans, High School Musical, "We're All In This Together"
21. "Who says we have to let it go? It's the best part we've ever known. Step into the future." — High School Musical, "High School Musical"