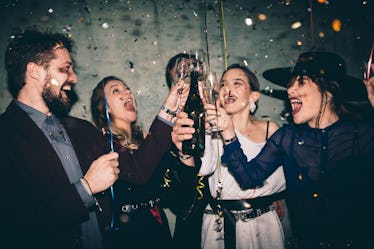 21 New Year's Captions For Squad Pics That Are Festive AF
When you're welcoming the New Year, you want your squad around to ring in the amazing moment together. These are some of the best folks you know, and you couldn't imagine bringing in a fresh start with anyone else. And if you are a moment preserver like me, you're already on the hunt for New Year's captions for squad pics that will capture all of the feels.
You and your friends milk the hell out of a good time, and if there is anything worth celebrating, you all are always sure to live it up. As an adult, it's not the easiest to claim a group of friends as your go-to squad. It's a humbling feeling to have them by your side, and that's why any and all New Year's celebrations are going to be worth documenting.
There's never a dull time between you guys, and quite frankly, you wouldn't expect anything less when the ball drops. You all feed off of each other's energy, and usually the fun odometer is well past extra lit. Hopefully, one of you is designated to photo duties, because you don't want those dope times to be lost. If you're starting the year off right with your solid group of friends, you're going to want to post those unforgettable photos with an even more resonating caption.
1. "Me and my group of friends are the funniest humans I know." — Unknown
2. "You can't do epic sh*t with basic people." — Unknown
3. "Don't walk in front of me… I may not follow. Don't walk behind me… I may not lead. Walk beside me… just be my friend." — Albert Camus
4. "It is one of the blessings of old friends that you can afford to be stupid with them." — Ralph Waldo Emerson
5. "When you're in jail, a good friend will be trying to bail you out. A best friend will be in the cell next to you saying, 'D*mn, that was fun'." — Groucho Marx
6. "Many people will walk in and out of your life, but only true friends will leave footprints in your heart." — Eleanor Roosevelt
7. "Life would be so boring without my crazy friends." — Unknown
8. "Stay close to the people who feel like sunlight." — Unknown
9. "I get by with a little help from my friends." — John Lennon
10. "Year's end is neither an end nor a beginning but a going on, with all the wisdom that experience can instill in us." — Hal Borland
11. "Cheers to a new year and another chance for us to get it right." — Oprah Winfrey
12. "And now we welcome the new year. Full of things that have never been." — Rainer Maria Rilke
13. "Say yes to new adventures." — Unknown
14. "Whatever happened over this past year, be thankful for where it brought you. Where you are is where you're meant to be." — Mindy Hale
15. "And suddenly you know—it's time to start something new and trust the magic of beginnings." — Meister Eckhart
16. "For last year's words belong to last year's language and next year's words await another voice." — T.S. Eliot
17. "Tomorrow is the first blank page of a 365 page book. Write a good one." — Brad Paisley
18. "We didn't realize that we were making memories, we just knew we were having fun." — Unknown
19. "You are never too old to reinvent yourself." — Steve Harvey
20. "Friendship is the hardest thing in the world to explain. It's not something you learn in school. But if you haven't learned the meaning of friendship, you really haven't learned anything." — Muhammad Ali
21. "Find a group of people who challenge and inspire you; spend a lot of time with them, and it will change your life." — Amy Poehler
We're totally here for the freshness and renewing qualities that are involved in bringing in a new year. Obviously, our solid group of friends are the only thing we don't plan on changing.