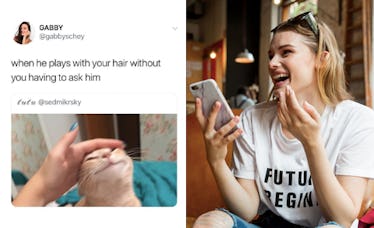 21 Hilarious Memes That Sum Up Your Love Life In The Most Spot-On Way Possible
Sometimes all you need is to know that other people are going through the same kinds of struggles as you are — especially when it comes to your love life. Whether you're experiencing heartbreak for the first time, falling in love, or celebrating being single, reading a relatable post on Instagram can make you feel like you're not alone, and give you a good laugh. If you're looking to LOL, look no further. These 21 memes about being single or in a relationship will have you saying, "I mean, same though."
You might think it's impossible for a single meme to accurately sum up your love life, but I'm here to tell you that you're wrong. These memes will speak to you like no therapist ever has. From deciding where to eat dinner with your boyfriend (AKA the ultimate struggle), to forcing yourself not to respond right away to a text from your crush (a close second, TBH), these hilarious memes are so spot-on that it hurts.
So enjoy these memes, and make sure to share your favorite ones with your besties before they beat you to it. Because let's be real: getting the notification of that "I've already seen this" comment after you tag your go-to meme queen in a post will break your heart more than any crush ever could.