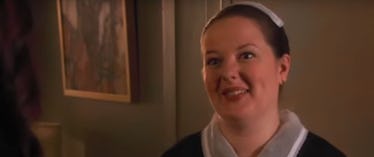 21 Dorota Quotes From 'Gossip Girl' That Made Us Want To Be BFFs With Her
Forget Blair and Serena, when it comes to Gossip Girl, we all secretly wanted to be best friends with Dorota, right? I mean, no offense to our Upper East Side queens, but when we're looking for a BFF, Dorota truly had all of the incredible qualities. Every gal wants a best friend who is loyal AF, with a few snappy one liners to make you laugh uncontrollably. In fact, some of the best lines from the series were Dorota Gossip Girl quotes. She always knew what to say, and was the Waldorf family's trusty housemaid who never failed to be there for our scheming Blair Waldorf. She always got straight to the point, and was brutally honest. For real though, I don't know how Blair would have survived all of those seasons without Dorota as her partner in crime.
It's true, Dorota did a lot of listening to Blair complain about all of the drama in her life, but when she did speak up, she always delivered a gem of knowledge. Not only was she funny when she needed to be, but she provided Blair with some of the greatest words of wisdom we all really needed to hear. You want that quality in a BFF — someone to make you laugh, but also to keep you grounded. That's why we need to drop everything and appreciate these 21 Dorota quotes to remind us what #BestFriendGoals are made of.
When She Offered Solid Insight On Blair's Love Life
1. "In Poland, we have a saying, 'Love is like head wound.' It make you dizzy, you think you die, but you recover. Usually." — Dorota
2. "I wish you to be like me one day. To find right love... good love." — Dorota
3. "Even Prince Charming can fall off horse." — Dorota
When She Was Blair's Comforting Shoulder To Lean On
4. "Carmela on 'Sopranos' didn't get big break till she was 40!" — Dorota
5. "I thought hearing that somebody's life is worse than yours would help." — Dorota
6. "Don't ever go to high school Dorota. The girls there are spoiled, stupid, and ungrateful. One snapshot with a socialite and it's all Serena, Serena, Serena!" — Blair
"Some tea will calm your nerves." — Dorota
When She Showed Her Concern
7. "You don't come to me with any complaints about anything. You too happy. Content. I'm worried you join cult." — Dorota
8. "Don't forget, God always watching, Miss Blair." — Dorota
9. "Uh oh, two girls wrestling for last three-button vest. I go act as referee." — Dorota
10. "You need to calm nerves and warm vocal cords. You want tea?" — Dorota
Whenever She Was Just Helpful AF
11. "Club Bed is over. First day back to school." — Dorota
12. "You sure you want to read miss Blair? There are some bad things about friends in there." — Dorota
13. "We bring pie!" — Dorota
14. "This say 'sexy and smart.'" — Dorota
15. "Besides, it's very complicated with many ups and downs. Would take long time to explain." — Dorota
When She Was Just Being Dorota, The Real MVP
16. "Uh, vodka on the rocks. Big glass, not too many rocks, three olives." — Dorota
17. "I need vodka!" — Dorota
18. "I must say, best part of pregnancy is knowing who father is." — Dorota
19. "And 'Gossip Girl' talk about me. I feel so special." — Dorota
20. "Where did you find these people?" — Blair
"Facebook. I joined few groups." — Dorota
21. "How can Gossip Girl be down on my first day at Columbia?" — Blair
"Maybe Gossip Girl get kidnapped? Unstable ex-boyfriend lock internet tattletale in basement." — Dorota
"Dorota! What did I tell you? No more watching 'Law and Order: SVU' while you're breastfeeding." — Blair