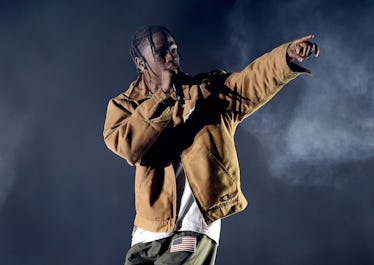 Photos Of Travis Scott In 2018 Show Kylie Jenner's BF Is Already Off To A Great Year
Kevin Winter/Getty Images Entertainment/Getty Images
Travis Scott is about to have a pretty life-changing year. In just a few months, he will reportedly be welcoming his first child with Kylie Jenner, and 2018 photos of Travis Scott show this guy is ready to see what this year has planned for him and the makeup mogul. Back when the news of Jenner's reported pregnancy came out in September, sources close to the family reported the couple was surprised, but thrilled nonetheless. If Jenner really is due in March, that means she probably learned of her pregnancy in June. And back in June, we all saw Scott tweet "Legit happiest day of my life." Fans think that was his reaction to Jenner's news, and based on his posts on social media ever since, this guy is seriously ready for what 2018 has in store for him.
First of all, let's start with his Twitter. The guy seriously seems to be in the best mood, like, all the freaking time. Between posting videos from his concerts that are lively as hell and responding to tweets he says make him happy, Scott seems like there's nothing that can kill his vibe lately. On New Year's Day, just days after he and Jenner made their first public appearance together in months at Kris Jenner's Christmas Eve party, he quoted a tweet about Xanax (lol) that said, "We leaving Xanax in 2017." Scott quoted the tweet, saying, "This tweet made me happy !!!"
He recently released a collaboration album with Quavo called Huncho Jack, Jack Huncho on Dec. 21, and the video of Travis Scott performing the song "Huncho Jack" for the first time is literally wild.
Huncho Jack, Jack Huncho debuted at number three on the Billboard 200 chart when it was released, so yeah, the guy's having a good start to the year.
While there haven't been many new photos of Travis Scott in 2018 so far, he seems to always be on tour, so we can expect to see some amazing photos and videos from that.
Scott posted the above photo of him and a fan interacting at one of his concerts, and the photo looks like it's literally out of a movie.
Outside of his music, he and Jenner seemed happy together at Kris Jenner's Christmas party.
The first photos in months of them together surfaced following Mama Kris' Christmas party, and they're seriously adorable. In the photos, you can see Scott standing behind a smiling Jenner with his arms around her waist and her hand resting on his arms. Fans think Scott is holding Jenner's reported baby bump in the photo, but it's impossible to tell given the fact that the picture only shows Jenner from the chest up (like all of her photos over the last four months have...).
Despite how cute those photo booth photos are, some sources say Kylie Jenner and Travis Scott reportedly broke up. According to Metro, Jenner was nowhere to be found when Scott performed at LIV Miami on New Year's Eve. Since people typically spend the night with their significant others in order to get that ~New Year's kiss~, fans thought it was sus that Jenner didn't attend Scott's show.
Scott looked like he had the time of his life during the performance, though.
And honestly, think about it. Jenner's stayed out the public eye ever since rumors of her and Scott expecting a baby started in September. If she's due in March as reports say, that means she's six or seven months pregnant right now. If you were trying to keep your pregnancy a secret, would you go to your boyfriend's New Year's Eve show where literally hundreds of people would be attending? With phones? Nah. Based on all of Scott's posts, he's having the greatest start to 2018 ever, so we can probably expect to see more of him and Jenner in the future.