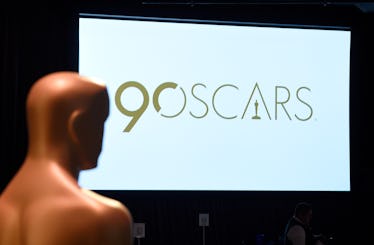 2018 Oscar-Inspired Food Puns For Instagram That Deserve An Award
Kevork Djansezian/Getty Images Entertainment/Getty Images
Every year, the best in show business come together for one night to celebrate the biggest films of the year. Get your popcorn ready, round up the squad, and make sure your TV is ready to go — because the 90th Academy Awards show is almost upon us. Taking place this Sunday, March 4, 2018, the hype is all too real. With that being said, you're probably down to throw a mega-Oscars party. And honestly, why not? With 2018 Oscar food puns on your side, you'll have the best Instagram captions around.
All you'll need is an impressive food spread and your favorite people to ring in this star-studded event. There are so many options for those of you who need to party on Oscars night, or for others who just want a chill evening. Of course, you're still going to watch, either way — because it's the Academy Awards — and you may want to document it on your Insta.
So, grab your favorite foods and settle down, because when Margot Robbie and Viola Davis take the stage, you'll want to give them your undivided attention. No matter what you are doing, these puns are sure to quench your Insta-thirst.
If you're popping champagne or corking open some wine at your viewing party
Why wouldn't you want your friends around while watching the Academy Awards? It'll be a party atmosphere, and you can freak out over the wins together. Make sure you have that bubbly ready to pop off if you're a fan of Lady Bird or Call Me By Your Name (They may win big this year.)
1. "I, Tonya, Need Wine." — Alani Vargas
2. "All the Money in the World (Couldn't Buy Better Champagne Than This)." — Alani Vargas
3. "This Is Me(ad)." — Alani Vargas
4. "The Greatest Pinot Blanc." — Alani Vargas
5. "Three Pours Outside My Comfort Zone." — Alani Vargas
If you're serving pizza and apps...
Hosting a party with your closest girlfriends? You obviously have to get pizza and chicken wings. Throw an Oscars viewing party. Order little appetizers, and some bigger foods like pizza or something else from your favorite take-out restaurant. You don't want to celebrate your favorite Original Song winning on an empty stomach.
6. "The Greatest Show-flan." — Alani Vargas
7. "DunTurkey." — Alani Vargas
8. "Phantom Bread." — Alani Vargas
9. "The Shape of Watermelon." — Alani Vargas
10. "The Boss Baby, aka how I act when they forget garlic dipping sauce." — Alani Vargas
11. "Remember Tea." — Alani Vargas
12. "The Big (Drum) S(t)ick." — Alani Vargas
13. "Pizza Blade Runner 2049." — Alani Vargas
14. "Baby (Back Rib) Driver." — Alani Vargas
15. "This Is Brie." — Alani Vargas
16. "This Is Me(at)." — Alani Vargas
17. "Fruity and the Feast." — Alani Vargas
18. "Kong: Grill Island" — Alani Vargas
19. "Margot Kebab-bie." — Alani Vargas
20. "Laurie Baguette-calf." — Alani Vargas
21. "And the petit four goes to..." — Alani Vargas
22. "I'd like to thank the Chianti." — Alani Vargas
If you're just chilling at home on the couch streaming The Oscars...
Staying at home to watch it with your fur baby and close group of friends? No worries, because there's nothing wrong with a chill, cozy night in. Order something yummy, grab some vino, park yourself on the couch, and you're ready to go. You'll still get a fun atmosphere while you enjoy the show.
23. "War for the Planet of the Grapes." — Alani Vargas
24. "Darkest (Coffee) Hour." — Alani Vargas
25. "The Post(mate)." — Alani Vargas
26. "The Shape of Pizza." — Alani Vargas
27. "Three Dominos Outside My Apartment." — Alani Vargas
28. "Star Wars: The Last Pad Thai." — Alani Vargas
29. "Beauty and the (Chicken) B(r)east." — Alani Vargas
30. "Daniel Ba-geLewis." — Alani Vargas
31. "Saoirse Romaine Salad." — Alani Vargas
32. "Wonder(bread)." — Alani Vargas
These puns can be on the extra corny side, but after the awards show and your funny shot of you eating wings, you'll be the star of your friends' feeds.