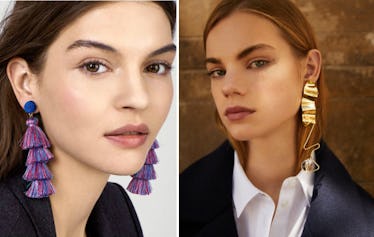 2018's Statement Earring Trend Is Going To Be Huge, Literally
Whether you got your ears pierced as a baby before you could form full sentences, or you had to brave the piercing gun later in life, we can all come together for the love of earrings. And this year, the baubles are getting super-sized. 2018 jewelry trends are all about maximum drama from the neck-up, and celebs like Selena Gomez, Beyoncé, and Rihanna are totally digging it.
Delicate, stud earrings will always have a place in my heart. As someone with eight ear piercings (whoa, am I a masochist, or just a jewelry addict?), post earrings are a necessity for every hole after my lobes, and for when I'm feeling not-so-low-key lazy in the morning. Far be it from me to turn down a life hack, though, because oversized earrings are actually one of the easiest ways to dress up an otherwise drab outfit. They can also make for a great Boomerang.
To be clear, I'm not talking about your grandma's weighty danglers that will eventually require you to have ear lobe reconstruction surgery à la Kris Jenner. Modern-day ear candy is much more gravity-friendly, and more stylish! I've gone ahead and taken the liberty of finding the best oversized earrings for different personalities, but honestly just sport whichever pair you prefer. If you love your pair, your confidence will make it succeed more than following my recommendation ever could.
The Fashionista
You're all about the newest trends. Girl, you set the trends. And these earrings have plenty of them - tassels, hoops, gemstones, and they're oversized. You're confident enough to wear these from day to night, with sweatpants or a gown, and everything in between. If you want to go a step, wear one earring at a time for an über fashion-forward look. If you're just finding out about that trend then it's too late.
The Grunge Girl
You'll wear pretty much anything, as long as it's black. The thought of wearing pink or purple makes you nauseated. Well, lucky for you, black is always in style. These oversized tassels will fit right in with your existing wardrobe, adding some chic film noir vibes — but people will still know you're a bad*ss.
The Prepster
You really don't feel complete without a string of pearls. For a more modern day take on your signature style, though, try out these pearl drop earrings. They'll keep you feeling prim and proper but add just enough funk for you to handle. Come on, let loose a little!
The Diva
These earrings take the term duster to a new level, literally. Duster earrings typically barely graze your shoulder and these go well past it. But the female hustla that you are was born to break the rules of fashion. Your life motto is, the more rhinestones the better, so here you go.
The Wannabe Hippie
You're the definition of boho-chic. A maxi dress, ankle boots, floppy hat, and round sunglasses is your vibe. But you also like a little bit of sparkle, because hey, you do you. These earrings check off both boxes - the multi-colored fringe keeps your boho look on track and the rhinestones add the sparkle that you undeniable need.
The Risk-Taker
If you've been keeping up, you know that asymmetrical/solo earrings are also in right now, and I think you're bold enough to give it a go. Put a small stud earring in your other ear and sweep your hair to the side to show off this sculptural beauty. If you're not quite ready for a single earring though, just buy two of these and wear them together! The more the merrier.
The Minimalist
The idea of oversized earrings makes you a little uneasy, trends are just not your thing. You can't get more simple than this brass tube-shaped pair, though. They'll go with literally anything and everything you own, even the jeans and T-shirt look I know you wear everyday. Just try them out, you're gonna like the way you look, I guarantee it.
I told you there was something for everyone!
Go big or go home.