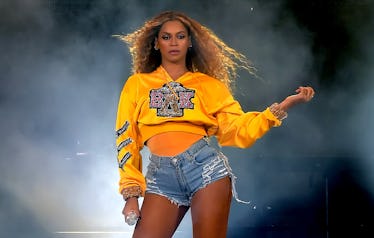 These 2018 Halloween Costume Trends Embody The Best Of Pop Culture
Kevin Winter/Getty Images Entertainment/Getty Images
You've officially got 29 days to figure out what you're going to morph into for the spookiest night of the year. Will you go scary? Will you go funny? Will you go fashionable? Will you go group-themed? The possibilities are endless, but hopefully these 2018 Halloween costume trends can help guide your way.
Every year, major pop culture events including trending memes, hit TV shows, buzzy movies, high-profile weddings, and more shape what Halloween will look like, quite literally. Last year, streets were overflowing with Harley Quinns and Elevens and Salt Baes and Wonder Womans (Wonder Women?) on October 31, with each one boasting their own unique flair. This year will undoubtedly be no different.
If you're someone who always opts for the same cat or witch or Sandy from Grease getup (hi, me), I beg of you—try something different this year! The best part about Halloween can be seeing how different people interpret different personas or characters, so no matter what angle you take I guarantee you it'll be appreciated. Below are a slew of pop culture moments that have defined 2018 thus far and will therefor undoubtedly be translated into some seriously ace costumes. Choose one to interpret for yourself or simply let them inspire you to do something even more out-of-the-box.
Meghan Markle and Prince Harry
How much you want to bet that every fourth couple that shows up to the Halloween party is dressed up as Meghan and Harry in some form or another? (The serious couples, at least—proposing this costume to a SO could potentially be very awkward.) Your partner will need a suit (easy) and you'll need a white dress (preferably Givenchy—hah!), tiara and veil. Et voila! A costume fit for a royal.
Queer Eye's Fab Five
I just watched my first episode of Queer Eye last week (I know, I know, where have I been?!) and the Fab Five would honestly make the most fun and dynamic group costume ever. Each member of the Fab Five has their own unique style and flair meaning your friends could pick to emanate whoever they most identified with. Will everyone be fighting over Jonathan? Probably. Crop tops rule, so...
Beyoncé at Coachella
Bey's Coachella performance was momentous for so many reasons, namely that it marked the first time a black woman ever headlined at Coachella. Her entire set was an homage to/ celebration of black culture and it was so timely and necessary considering America's sociopolitical climate at the time (and currently, tbh). Not the downplay the importance of the performance itself, but Bey's sartorial statements during the set were pretty epic too, especially the above look featuring a yellow hoodie and holographic fringed boots. Beyoncé has a similar yellow hoodie available on her merch store for $115 and ASOS has holographic boots for $67.
Ariana Grande in "God is a Woman"
If you haven't seen this music video you need to. It's a literal work of art, and so is Ariana in it. Channel the powerful songstress by painting the sides of your face with similar hues featured in the movie (lilacs, midnight blues, grays, etc.), styling your hair into a long braid, and slipping into a galaxy print skirt like this one from Hot Topic ($20).
Tonya Harding
Margot Robbie made for an excellent Tonya Harding in I, Tonya, which was nominated for a plethora of awards. In other words, we're about to see a lot of Tonya's running around come Halloween. To be one of them, find a retro figure skating costume on eBay (they'll be more authentic and probably cheaper!), tease your hair into the puffiest ponytail you can manage and secure it with a scrunchie, and apply way more plum colored blush and lipstick than you ever would IRL.
Black Panther
Wakanda forever. Black Panther was another powerful and important moment in pop culture this year because, as aptly put by NBC, it "sheds light on black excellence." The film itself boasts beautiful costumes, represents hope and the possibility of a unified future, and was another excellently executed project by Marvel. Black cats, step aside.
Arthur Meme
Arthur's fist—just his fist!—became one of the biggest memes of 2018, representing a feeling of frustration, a sigh, or, as the kids put it, "smh." Dress up by Arthur by putting on a white collared shirt, jeans, a yellow sweater, and round glasses, and then cut a piece of white cardboard into a hollow square (the border of the meme) to wear as an oversized bangle. Clench your fist when necessary.
Ocean's 8
The ultimate celebration of girl power, Ocean's 8 is also fuel for one heck of a group costume. Pick your badass babe and dress accordingly. Just make sure each of you wear a big fake diamond on a finger, ear, wrist, or the like. (Claire's has got some great cheap costume jewelry.)