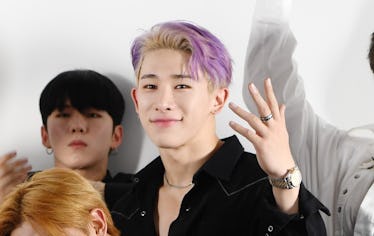 Here Are All The Times Monsta X's Wonho Made You Fall In Love With Him
Denise Truscello/Getty Images Entertainment/Getty Images
Fandoms have good and bad days. Unfortunately for Monbebes, Oct. 31 was the latter. It was the day Starship Entertainment announced Wonho's departure from Monsta X after a series of rumors and scandals surrounding the member compelled him to leave the band. The news came as a big shock to fans, and Monbebes immediately launched Twitter campaigns in hopes Wonho would return to the band. Whether that happens or not is up in the air, however, since Wonho's contract with Starship has been terminated. For now, Monbebes can appreciate Wonho's best moments that made fans fall in love with him and Monsta X in the first place.
Wonho's kindness, selfless personality, and priceless sense of humor shine through whenever he interacts with his fellow members or his fans, and so many of those moments were, thankfully, caught on camera.
In Wonho's letter announcing his departure from Monsta X, he asked fans to support the band even if he wasn't a member anymore, so he probably wouldn't want Monbebes to feel sad about his departure for too long. Instead, fans can celebrate his time with Monsta X and all the moments he made them truly happy.