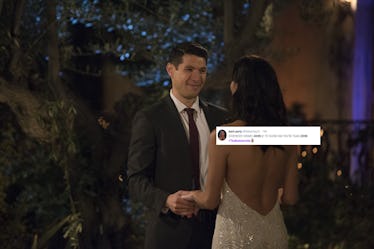 20 Tweets About Venmo John Leaving 'The Bachelorette' That Will Leave You Heartbroken
ABC
It seems that Becca Kufrin's season of The Bachelorette has been a constant reminder of why Bachelor Nation can't have nice things. Several troubling things have been revealed about certain contestants offscreen, but to make up for it, Season 14 introduced two of the purest souls in Grocery Store Joe, a Night One castoff, and John Graham, a software engineer whose enthusiasm, surprise athleticism, and creation of the Venmo app won over many hearts in the Bachelorette fandom. In another startling act of judgment, Becca cut John from the competition this week, and these tweets about Venmo John leaving The Bachelorette will totally break your heart.
It isn't often that an adorable nerd sneaks his way past the Bachelorette casting filter of personal trainers and finance bros and lasts a decent amount of time on the show. This year, we've been blessed with two of these guys, John and Wills, who has called himself a nerd several times now. However, both of these men have gone beyond the typical Bachelorette expectations of a nerd, joining a legacy of geeks-turned-heartthrobs that I like to think also includes Season 12 alums Wells Adams and Evan Bass. Although the 28-year-old helped create the Venmo app and currently works for a new tech startup, John's sweetness and superhero-like climbing skills on Becca's lumberjack group date persuaded fans to take notice of him.
So, when John was sent home despite performing a very earnest version of "Danke Schoen" on the group date, fans on Twitter revolted. First Grocery Store Joe and now this? You're killing me, Becca.
In today's tech-savvy world, viewers rarely hesitate in reaching out to their favorite contestants on social media. People Venmoed Becca so much money after her breakup with Arie Luyendyk aired in March that she donated the funds to the organization Stand Up to Cancer. While the sympathy levels for John haven't quite reached that level, Bachelor Nation quickly began a Twitter trend of sending John a single cent via Venmo, accompanied by a single rose emoji. Welcome to the Bachelor fam, John!
Bachelorette Season 12 alum and former Bachelor in Paradise contestant Derek Peth even weighed in on Venmo John's elimination. Once again emphasizing that John represents all of the nerds out there, Derek shared a screenshot of a payment the San Francisco resident sent him when Derek made fun of Venmo shortly after the Bachelorette premiere. John asked Derek to keep trying out Venmo and even included a rose emoji in his message to Derek, clearly willing to make more friendships within Bachelor Nation. BRB, I'm now trying to ignite a spark between John and myself via Venmo messaging.
Side note: Derek, have you seen Wills and his Harry Potter tattoo? You guys could start a fan club.
Luckily, the tide has turned for fans of both John and Chicago's Joe Amabile. The day after John's elimination aired, both men were revealed as cast members on Season 5 of Bachelor in Paradise. I didn't anticipate my emotional reaction to this news, but after finding out that John, Joe, and Kenny the wrestling teddy bear are saving ABC from promoting more iffy men this summer, I'm surprisingly very touched. Don't @ me — we all deserve this moment.
Finishing my summer with John and Joe on my TV? Don't mind if I do, ABC.
The Bachelorette returns on Monday, July 2, at 8 p.m. ET on ABC. Season 5 of Bachelor in Paradise premieres on Tuesday, Aug. 7, at 8 p.m. ET on ABC.