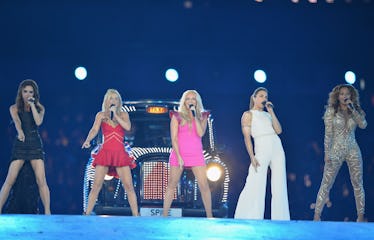 20 Things You Never Knew About The Spice Girls, Even If You Were Their Biggest Fan
Jeff J Mitchell/Getty Images Sport/Getty Images
The Spice Girls are going on tour, y'all. Well, maybe. DEAR OPRAH, HOPEFULLY THEY ARE. TMZ broke the news on Feb. 7, and none of us will ever be the same. Reportedly, all five of the original members — Mel B., Victoria Beckham, Geri Halliwell, Emma Bunton, and Melanie C. — sat down with their former manager, Simon Fuller, to discuss some "rough planning" for the United States and United Kingdom tours. THIS IS WHAT DREAMS ARE MADE OF. To celebrate, it's time to soak up all the Spice Girls we can get. Below are 20 things you probably never knew about the Spice Girls, even if you are their self-proclaimed "biggest fan."
This news of the potential tour came as an amazing shock to fans because Beckham (aka Posh Spice) told Vogue in September there would be no tour. Rather, the girl group was still in brainstorming mode. She said,
It was so great to see the girls. We had such a fun lunch. It was really, really, really lovely. I still speak to them all individually, but for us all to get together was really lovely. There's something so strong in the message of what the Spice Girls stood for. What is that in the future? What does that look like? We were just bouncing ideas around. Brainstorming.
While that sounds bleak, TMZ reported on Feb. 15 that contracts for the reported tour have been signed by some of the Spice Girls. According to the publication, Mel B. and "other members" have jumped on board for the project.
If the Spice Girls do end up touring, you'll definitely want to brush up on your facts. This girl group has slayed for almost two decades, and below are 20 things that will make you love the Spice Girls even more.
1. Before they were the Spice Girls, the band was called Touch.
After switching management in September of 1995, the girl group Touch became known as the Spice Girls.
2. Emma Bunton (Baby Spice) wasn't part of the original group.
Bunton took over Michelle Stephenson's spot in the girl group after Stephenson left to take care of her sick mother. Stephenson was just 17 years old when she joined the group. She coined herself as "Smart Spice," but explains in the video above that she wasn't a great fit for the group at the time.
3. Victoria Beckham wasn't an original Spice Girl, either.
I can't picture the Spice Girls without Posh. Beckham was still Victoria Adams and the group was still called "Touch" when she replaced Melanie Laccohee.
According to Mirror UK, 22-year-old Laccohee was told that her voice would overpower the group because it was "too good," and they decided to go a different direction. She was replaced by Beckham and the rest is history.
4. The hit song "Wannabe" was influenced by Shaggy and written in 10 minutes.
If you Wannabe my lover, you gotta get wi — wait, what? Mel B was guest hosting The Real in January of 2017 when she dropped this little nugget of information. She told viewers,
It was recorded and written in less than about 10 minutes. We were listening to an old Shaggy reggae song and we were like, 'Oh my God, we have to do something annoying like that song.'
She continued,
So we kind of literally huddled together, wrote some choruses, wrote some melodies and then we came up with phrases and sayings and it just happened.
I wish greatness came that easy to me. *Single tear rolls down cheek.*
5. The "Wannabe" music video was originally thought to be "too risqué" for the United States.
The "Wannabe" music video was an instant hit in the UK in 1996. However, Virgin Records asked for a few parts to be re-shot for the American market, according to MentalFloss.
The Spice Girls refused to make changes because they were so proud of the video. They had the right judgement because "Wannabe" won Best Dance Video at the 1997 MTV Video Music Awards.
6. Beckham is the only member who doesn't have a solo line in "Wannabe."
Luckily, Posh isn't the petty type.
7. Beckham took over Halliwell's lines after she left the group.
Although the Spice Girls didn't go on permanent hiatus until 2000, Halliwell sparked the dissolve of the group when she left in 1998. After that, Beckham sang all of Halliwell's lines in "Wannabe" during the live performances.
8. Halliwell apologized for leaving the group.
On the 19-year anniversary of her exiting the group, Halliwell tweeted out,
I'm sorry about that ... Everything works out in the end, that's what my mum says!
She was met with an amazingly positive response from fans. We'll always love you, Geri.
9. The members' nicknames were created by a "journalist that couldn't be bothered to remember all our names," according to Mel B.
Editor of the British magazine Top of the Pops, Peter Loraine, led the meeting in 1996 where the nicknames were created.
Mel B told a very colorful version of the story to Huffpost in September of 2015,
It was actually a lazy journalist that couldn't be bothered to remember all our names, so he just gave us nicknames ... And we were like, 'Oh, well, that kind of works. I don't mind my name. Do you like your name? Baby? Posh?' We were like, 'Let's just go with it.'
10. Beckham's microphone was turned off during many live performances.
Beckham is the only one who didn't pursue a solo career after the group broke up. As it turns out, she was the self-proclaimed most "reserved" member of the Spice Girls. She told Independent in 2016 that during live performances her microphone would often be turned off because her "voice wasn't up to the other girl's standard." She said,
They used to turn [my mic] off and just let the others sing. Luckily because I used to wear heels, I just used to jig about a bit and I got away with it, but it never came easily. I was always much more reserved than the other girls.
11. Nelson Mandela called the Spice Girls his "heroes."
Mandela met the Spice Girls at the peak of their fame in November of 1997. He called the girl group his "heroes" and continued to tell reporters, "It's one of the greatest moments in my life." Even Nelson Mandela had Spice fever.
12. Halliwell made an appearance in Sex and The City.
Do you remember? Halliwell played the fabulous Phoebe who loved to lounge poolside at the exclusive Soho House that Samantha Jones couldn't get into.
13. Mel B. almost changed her name.
When Melanie Brown married her ex-husband, Jimmy Gulzar, in 1998, she almost changed her name to Mel G. Since their marriage didn't last, it's probably best she kept the "B."
14. Bunton kept all her Spice Girls dresses and shoes.
That's right, Bunton basically has the most iconic wardrobe collection of all time stored in her closet. She told Us Weekly in 2017, "I kept my Spice Girls dresses and the big shoes. My friends ask to try them on."
15. The Spice Girls do not have a Grammy.
One MTV Music Award
Three World Music Awards
Five Brit Awards
Three MTV Europe Music Awards
Three American Music Awards
But, no Grammy. Why though?
16. The Spice Girls "fought like cats and dogs," according to Mel B.
Although, the women are close (Beckham and Bunton are the godmothers to Halliwell's daughter), the Spice Girls definitely had their problems. Mel C. opened up to Attitude in 2016 about the bullying she endured. She said,
I'm not going to name names. But yes. It's been addressed, they were aware of what they'd done. They apologized...now I'm older, I'm a lot more confident and I will not be shat upon.
Tell 'em, Mel.
17. Halliwell struggled with an eating disorder during the peak of her fame.
Halliwell opened up during an Oprah: Where Are They Now? special about her struggle with bulimia. The singer explained that she used it as a "coping mechanism." As reported by Hello Magazine she said,
You know, I think one of the challenging aspects is the scrutiny being in the glare of the spotlight. I think I felt much more conscious of myself, my body weight. All the things that everybody goes normally goes through, but a heightened version.
Halliwell has worked to recover from her eating disorder to set a good example for her own daughter. She continued,
Throughout my 20s, I had bulimia. Even when I'd recovered from it, I had a distant relationship with food. I wanted to be a healthy example for my daughter, so I tried to have balance.
18. All the members (except Bunton) read the same audition ad... and it was brief.
In March of 1993, most of the members of the Spice Girls glanced at the same ad in a magazine called The Stage, according to Rolling Stone. The advertisement read, "R.U. 18-23 with the ability to sing/dance. R.U. streetwise, outgoing, ambitious and dedicated?" Glad they all responded, "Yes!"
19. All the Spice Girls lived together at one point.
All five members lived in a house in a town west of London called Maidenhead. Talk about girl power.
20. When the Spice Girls signed with Virgin, they celebrated by throwing a member's underwear out of a taxi window.
When the group found out they had been signed with Simon Fuller at Virgin, they celebrated by, "tearing Victoria's knickers off and throwing them out of a taxi window," according to The Guardian.
Obviously, the Spice Girls are everything. Now, let's all keep our fingers crossed for another tour.
Check out the entire Gen Why series and other videos on Facebook and the Bustle app across Apple TV, Roku, and Amazon Fire TV.