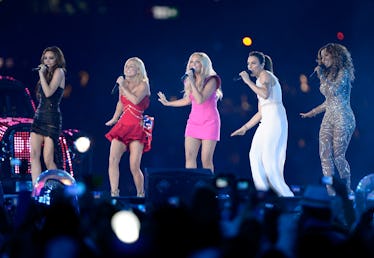 The Spice Girls Reportedly Signed Contracts For A Reunion Tour & I'm So Excited
Pascal Le Segretain/Getty Images Sport/Getty Images
Hold on to your pigtails because I have some news that is going to rock your sweet little '90s butt off. A Spice Girls reunion tour might just be coming your way. According to a report by TMZ, the girls signed contracts suggesting the gang could be getting back together and coming to a city near you. I die. Ever since Posh Spice went and became Mrs. Beckham, my dream of seeing "2 Become 1" performed live has slowly crawled to the back of my childhood closet to die. Fortunately, this speculation is bringing it back to life.
TMZ claims they have confirmation that Mel B and her fellow bandmates have signed documentation that outlines dates, locations, and how much the girls are going to get paid to put on their British flag leotards. Right now, reports say the tour will only stretch across the UK and U.S., which selfishly works for me.
Rumors first started flying when Victoria Beckham posted a picture of all five girls hanging out in Geri Halliwell's (Ginger Spice's) home. Beckham captioned the photo, "Love my girls!!! So many kisses!!! X Exciting x #friendshipneverends #girlpower."
What's exciting, Posh?! A TOUR?
Following the photos, the Beckham's publicist Jo Milloy issued an official statement to Entertainment Weekly on behalf of the girls. It said,
We have enjoyed a wonderful afternoon catching up and reminiscing about the amazing times we have spent together. We are always overwhelmed at how much interest there is across the whole world for The Spice Girls. The time now feels right to explore some incredible new opportunities together. We all agree that there are many exciting possibilities that will once again embrace the original essence of The Spice Girls, while reinforcing our message of female empowerment for future generations.
If that doesn't have REUNION TOUR written all over it, I don't know what does. To get you guys back in the platform boots spirit, let's do a little Spice Girls throwback.
Geri Halliwell (Ginger Spice), Emma Bunton (Baby Spice), Melanie Chisholm (Sporty Spice), Melanie Brown (Scary Spice), and Victoria Beckham (Posh Spice) last came together on stage at the 2012 London Olympics and it was everything we could have hoped it would be and more. Posh brought her cheekbones, Scary brought her leopard print, and Sporty brought her sneakers. Baby was there in all of her hot pink glory, and Ginger, bless her, wore a British flag.
I get actual chills watching this video, and not in a "I'm writing for the internet so I have to say that" kind of a way, but in a real way.
Please. Indulge.
If you want to keep the nostalgia train really going, then I highly recommend the next video you jump into be the Spice World movie trailer. TBH, I don't even really remember the plot line of the whole film, but I know it involves the girls saving the world or something, and doing it in some seriously awesome costumes.
Just listen to some of these incredible sound bites!
In September, Beckham told Vogue there would be no tour, but that doesn't mean things haven't progressed since then. She told the fashion magazine,
It was so great to see the girls. We had such a fun lunch. It was really, really, really lovely. I still speak to them all individually, but for us all to get together was really lovely. There's something so strong in the message of what the Spice Girls stood for. What is that in the future? What does that look like? We were just bouncing ideas around. Brainstorming.
Dear God Spice, let this rumor be true!
Check out the entire Gen Why series and other videos on Facebook and the Bustle app across Apple TV, Roku, and Amazon Fire TV.