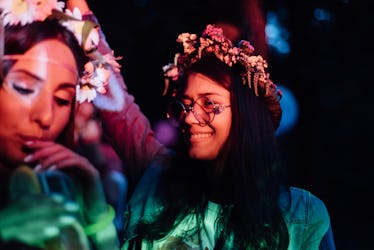 20 St. Patrick's Day Quotes About Friends That'll Make You Feel So Blessed
Just like other holidays, St. Patrick's Day is meant to be spent with people you care most about in this world. Celebrating is honestly so much more fun that way. Unlike other festivities around Christmas and Thanksgiving that you may spend with family, you might choose to celebrate St. Patrick's Day by going to a parade or bar hopping with your friends. If you're posting pics from the parade or just want to feel extra lucky for having these awesome humans in your life, St. Patrick's Day quotes about friendship will do just that.
Whether it's an Irish proverb or a quote from someone famous, there isn't a shortage of loving words that you can post around St. Patrick's Day. It doesn't have to just revolve around friendship either, although there are a few that are so cute that you might just have to. There are a lot of quotes about love and blessings. Even though St. Patrick's Day is often associated with festive parades and drinking green beer (if you're 21 and up), you can also spend it thinking about how lucky you are to be surrounded by the awesome people you call friends. The laughing and fun times, on any day of the year, are worth celebrating.
1. "A good friend is like a four-leaf clover, hard to find and lucky to have." — Irish Proverb
2. "May the road rise up to meet you. May the wind be always at your back." — Irish Blessings
3. "Luck is believing you're lucky." — Tennessee Williams
4. "St. Patrick's Day is an enchanted time — a day to begin transforming winter's dreams into summer's magic." — Adrienne Cook
5. "Rainbows, leprechauns, and the Blarney Stone. You're one of the most awesome friends that I've ever known." — Unknown
6. "Love is never defeated, and I could add, the history of Ireland proves it." — Pope John Paul II
7. "I try to be grateful for the abundance of the blessings that I have, for the journey that I'm on and to relish each day as a gift." — James McGreevey
8. "I love everything that's old, - old friends, old times, old manners, old books, old wine." — Oliver Goldsmith
9. "We may have bad weather in Ireland, but the sun shines in the hearts of the people and that keeps us all warm." — Marianne Williamson
10. "Having you for a friend means that I've been granted the luck O' the Irish." — Unknown
11. "A blessing is a circle of light drawn around a person to protect, heal and strengthen." — John O'Donohue
12. "If you're Irish, it doesn't matter where you go - you'll find family." — Victoria Smurfit
13. "May luck be our companion, May friends stand by our side, May history remind us all, Of Ireland's faith and pride. May God bless us with happiness, May love and faith abide." — Irish Blessing
14. "Lucky to have a friend like you." — Unknown
15. "Your feet will bring you where your heart is." — Irish Proverb
16. "May you have love that never ends, Lots of money and lots of friends. Health be yours, whatever you do. And may God send many blessings to you." — Irish Blessing
17. "May your blessings outnumber the shamrocks that grow, and may trouble avoid you wherever you go." — Irish Blessing
18. "The amount of good luck coming your way depends on your willingness to act." — Barbara Sher
19. "And say my glory was I had such friends." — William Butler Yeats
20. "I am tomorrow, or some future day, what I establish today. I am today what I established yesterday or some previous day." — James Joyce