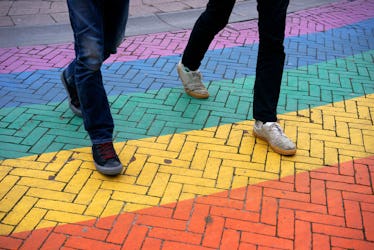 20 Instagram Captions For Your First Pride Parade That Celebrate YOU
Going to your first Pride parade can be very emotional, but it can also be a super fun celebration of who you are, and you will likely want to post some photos from the festivities. If you need help brainstorming Instagram captions for your first Pride parade, you've come to the right place. Although you don't owe anyone an explanation for your presence at Pride, it can feel empowering to touch upon such an important (and exciting) event.
This year is the 50th anniversary of the Stonewall Uprising, NYC Pride explains that "The first NYC Pride Rally occurred one month after the Stonewall Riots in June 1969, when 500 people gathered for a 'Gay Power' demonstration in Washington Square Park, followed by a candlelight vigil in Sheridan Square. NYC Pride has continued this proud tradition by hosting the event in various locations throughout the city." NYC Pride also cites trans women activists Marsha P. Johnson and Sylvia Rivera as prominent leaders of the movement. These two figures are frequently honored as leaders of the queer liberation movement, and many queer people are paying their respects to those who made this celebration possible.
If you are attending your first Pride, know that you are so loved and valued as a part of the community. There's no pressure to post about attending, but if you're interested in being punny or sincere, consider any one of the following captions.