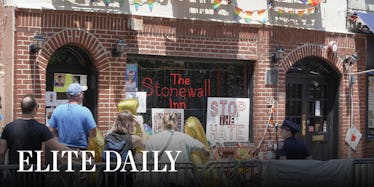 Why It's More Important Than Ever To Come To NYC Pride
Elite Daily
Tomorrow is the New York City Pride parade of 2016. As a native queer New Yorker, I've been to more Manhattan Pride parades than I can count. I've been magnetically drawn to the palpable Pride energy since I was a pimply teen girl creature.
However, this year the energy feels entirely different.
The tragedy at Pulse nightclub in Orlando left our colorful queer community devastated, homeless, reeling, lost and more afraid than ever before. Gay clubs are our safe place, the only place where we never had to worry about the hateful negativity and pressing violence of the outside world.
I know it sounds strange, but the gay club has always been a holy space to me. It was a space that embraced and accepted me before I embraced and accepted myself.
The shooting at Pulse nightclub robbed our community of our one safe, sacred place. No matter where we were in the world, we always knew we had a home in the gay club. We always knew we could find friends and family within those four square walls.
But, evil infiltrated our home and took away 49 beautiful, innocent members of our family.
And what's home without a family?
We have become deeply afraid again. We've lost the force that grounds us.
While I completely understand the fear, it's more important than ever to show your face at NYC Pride this weekend. We have to remember there are so many more of us than there are of those who would destroy us. There is so much more love in the world than there is hate. Love is the most powerful force field of all.
Pride is a celebration of love and sexuality. Our sexuality exists at the very core of who we are, so in a way, Pride is a celebration of our essence, our spirit.
I don't care if you're gay or straight or bisexual or wherever you land on the spectrum of sexuality because if you were to peel back the layers of sexuality, what lives underneath? Our humanity. And we're all connected by our humanness. So, this Pride is for everyone. This Pride is for all New Yorkers who believe in love and humanity.
After all, we've been fighting for love for so long, let's not let the hate win.
For more Elite Daily original videos, subscribe to the official Elite Daily YouTube Channel and like the official Elite Daily Facebook Page.