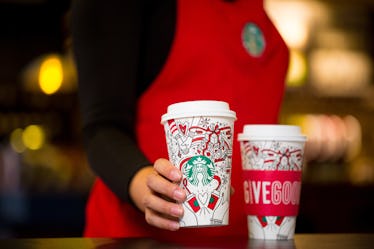 20 Instagram Captions For Starbucks Holiday Cups That'll Give You A Latte Feels
Every year we anxiously wait for Starbucks to release their holiday cups. Each one somehow tops the previous one, and we seriously sip up all of its festive feels. Clearly, this is a textbook social media moment. That's why you need to have some Instagram captions for Starbucks holiday cups ready to go for when you capture the ultimate seasonal snap.
If you haven't seen it already, this year's cup allows you to color in the festively-decorated surface. The illustrations are all about togetherness, and the sleeves read "give good." To get super figurative on y'all, the holidays are about adding your own colors. Yes, the annual qualities of the holiday season depict an outline of what to expect, but we define our holidays with our own perspective, gratitude, and experiences. It's those differing outlooks that we bring to the holiday season that make it so diverse and magical.
Yes, Starbucks went and got super deep and espresso on us. This year's cup is not only keeping you up with the caffeine, but you should feel #woke from its meaning. So, when you've finished shading in your cup to your colorful preference, you have to showcase it to your followers. It's more than just an arts and crafts project — it's your interpretation of how dynamically colorful the world can become if we face it together. As if this message wasn't impacting enough, bring it all home with a caption that'll give everyone the feels... one sip at a time.
1. "There is nothing insignificant in the world. It all depends on the point of view." — Johann Wolfgang von Goethe
2. "You may say I'm a dreamer, but I'm not the only one. I hope someday you'll join us. And the world will live as one." — John Lennon
3. "We are like islands in the sea, separate on the surface but connected in the deep." ― William James
4. "We are all so much together, but we are all dying of loneliness." ― Albert Schweitzer
5. "The artistic image is not intended to represent the thing itself, but, rather, the reality of the force the thing contains." — James Baldwin
6. "People leave traces of themselves where they feel most comfortable, most worthwhile." ― Haruki Murakami
7. "We make a living by what we get, but we make a life by what we give." — Winston Churchill
8. "My idea of Christmas, whether old-fashioned or modern, is very simple: loving others. Come to think of it, why do we have to wait for Christmas to do that?" — Bob Hope
9. "Remember that the happiest people are not those getting more, but those giving more." — H. Jackson Brown Jr.
10. "Connecting our hearts through love yields a nectar so sweet we are forever full." — Amy Leigh Mercree
11. "Dreams come from that special place in our mind where our soul loves to spend its holidays." — Anthony T.Hincks
12. "I prefer living in color." — David Hockney
13. "If everyone would look for that uniqueness then we would have a very colorful world." — Michael Schenker
14. "You are never alone. You are eternally connected with everyone." ― Amit Ray
15. "Unity is vision; it must have been part of the process of learning to see." — Henry Adams
16. "Individuality or Unity? I say there's room for both." — Brian Celio
17. "Never invest in any idea you can't illustrate with a crayon." — Peter Lynch
18. "Beauty without colour seems somehow to belong to another world." —Murasaki Shikibu
19. "It is not the size of the candle that matters, but the size of its light." ― Matshona Dhliwayo
20. "If this planet is to be transformed for the better, then we as individuals must first transform ourselves." — Auliq Ice