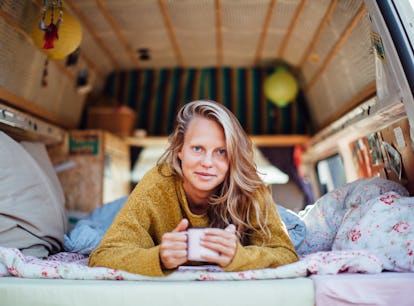 20 Captions For Your Road Trip Pics, Because It's All About The Journey
Counter/Photodisc/Getty Images
Hitting the road on an epic adventure is one of the best feelings in the world. You've got everything you need packed in your car, a playlist set to stream, and the open road ahead of you. Just don't forget to pack up some Instagram captions for road trips, too, for all the content you'll capture along the way. After all, the adventure is really in the journey of getting to your destination.
Deciding on the type of road trip you'd like to take is the first step. Embark on a mini escape with your partner to relax and recharge. Choose a gorgeous place with a view to enjoy a picnic lunch, head to a drive-in theatre to watch a classic film, or simply cruise along the coast to feel the cool ocean breeze against your skin.
A road trip to a nearby state or national park with your housemates could also be a sweet bonding experience. On the way, take turns playing DJ with the aux cord and stream some of your favorite throwback tunes from high school. (Rolling the windows down with your sunnies on and belting out the lyrics is totally not out of the question.)
The best part about taking a road trip is the memories you make and the many laughs you share with your buds along the way to your destination. After capturing your content, do one big photo dump of your adventures like a vacation slideshow on the 'gram. Use any of these 20 road trip captions for your pics so you can post with ease. Add a few hashtags to the mix like #RoadTrippin and #Cruising, and you're good to go.
1. "I'm always THAT person who asks, 'Are we there yet?'"
2. "Because the greatest part of a road trip isn't arriving at your destination. It's all the wild stuff that happens along the way." — Emma Chase
3. "It doesn't matter where you're going. It's who you have beside you."
4. "Hey GPS, let's take the scenic route today."
5. "You know you've found the perfect partner when they trust you to be DJ in the car."
6. "Road trip? Alpaca my car."
7. "Wish you were here."
8. "Catch me cruisin' by the sea."
9. "Cruisin' is my forever mood."
10. "Today's good mood is sponsored by coffee and this view."
11. "I'd say the view's pretty palm-tastic."
12. "Look at life through the windshield, not the rearview mirror." — Byrd Baggett
13. "I've got sunshine on my mind."
14. "Sometimes the most scenic roads in life are the detours you didn't mean to take." — Angela N. Blount
15. "Might have overpacked."
16. "Roads were made for journeys, not destinations." — Confucius
17. "Today's road trip snack situation."
18. "Beach this way."
19. "I'm not lost. I'm just exploring."
20. "We're almost there, but nowhere near it. All that matters is that we're going." — Gilmore Girls
This article was originally published on