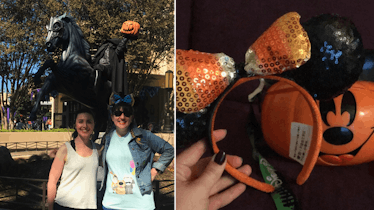 20 Captions For Your Candy Corn Mouse Ears, Because Disneyland's Halloween Is Coming
Break out the pumpkins and candy corn treats, because Halloween time will be here before you know it. You can always count on Disney to kick off the season with festive Mickey ears and magical spooks. Disney World in Florida already debuted their nighttime Mickey's Not-So-Scary Halloween Party at the Magic Kingdom on Aug. 17, and if you're a true Disneyland gal, you'll notice some new candy corn Minnie ears in stores. It's safe to say Disney is spreading the spooktacular vibes, and you'll need some Instagram captions for Halloween at Disney ASAP.
Disney goes above and beyond for the holidays, and that's why I love it so much. Every inch of the park is touched by the Halloween spirit with pumpkins, orange and black bows, and even a Nightmare Before Christmas Haunted Mansion overlay. There's always something Instagram-worthy to snap a pic of. Pose with the squad in front of the giant Mickey pumpkin at the park's entrance, and don't forget to get a snap of every Halloween sweet throughout the day.
If you have plans to head to either Disney World or Disneyland this fall, you'll definitely want to grab a pair of orange and black Mickey ears for all of your selfies with Jack and Sally from The Nightmare Before Christmas. Consider these 20 Instagram captions as my treat to you, so all of your magical Halloween at Disney photos can be posted right away without any tricks.
1. "When hinges creak in doorless chambers, and strange and frightening sounds echo through the halls. Whenever candlelights flicker where the air is deathly still. That is the time when ghosts are present, practicing their terror with ghoulish delight!" — The Haunted Mansion
2. "Witch better have my churro." — Unknown
3. "It's just a bunch of hocus pocus." — Hocus Pocus
4. "Amuck, amuck, amuck." — Hocus Pocus
5. "This is Halloween, this is Halloween. Pumpkins scream in the dead of night." — The Nightmare Before Christmas
6. "Welcome, foolish mortals, to the Haunted Mansion." — The Haunted Mansion
7. "Halloween is cool." — Halloweentown
8. "Keep calm, because it's almost Halloween." — Unknown
9. "Come with us and you will see. This, our town of Halloween." — The Nightmare Before Christmas
10. "Keep calm and look out for hitchhiking ghosts." — Unknown
11. "Halloween is not a day. It is a lifestyle." — Unknown
12. "Chillin' like a villain." — Descendants 2
13. "Grim grinning ghosts come out to socialize." — The Haunted Mansion
14. "Why be nice when you can be wicked?" — Unknown
15. "We have 999 happy haunts here — but there's room for 1,000." — The Haunted Mansion
16. "You poor unfortunate soul." — The Little Mermaid
17. "You poor simple fools. Thinking you could defeat me. Me! The mistress of all evil!" — Sleeping Beauty
18. "Serpents and spiders, tail of a rat, call in the spirits, wherever they're at!" — The Haunted Mansion
19. "I'm just here for the candy." — Unknown
20. "I got friends on the other side." — The Princess and the Frog