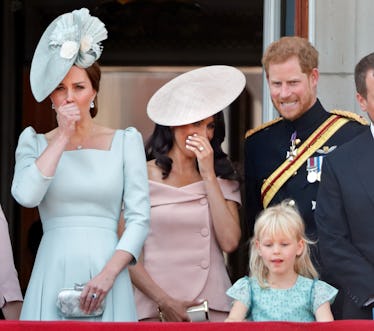 These 20 Candid Photos Of The Royals Being Relatable AF Are Everything
Max Mumby/Indigo/Getty Images Entertainment/Getty Images
Members of the royal family are conditioned to look cool, calm, and collected no matter what life throws their way. Whether they're born into royalty or marry into it, being camera-ready is something that is expected of them, no matter what age. But every once in a while, a photog snaps a moment that is so off guard, you can't help but chuckle over it. These 20 candid photos of the royal family are so pure and relatable.
When Prince William and Prince Harry were young, Harry often stole the show by sticking out his tongue or catching the public's attention by doing something hilarious just like a normal little kid. When Prince William and Duchess Kate's children stepped onto the scene decades later, their daughter, Princess Charlotte, made headlines for being just like her Uncle Harry when it came to sassing things up for the camera.
It's not just the little ones, either. Harry, William, Kate, and Duchess Meghan have also been caught laughing and telling harmless secrets during a public event. It's then when their true personalities show and make fans feel like they *finally* have something in common with a member of the royal family.