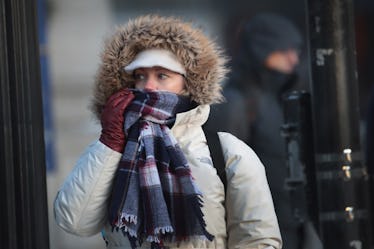 20 "Bomb Cyclone" Instagram Captions, Because The Snowy Struggle Is So Real
Scott Olson/Getty Images News/Getty Images
"Winter is coming" is an understatement if you consider this "bomb cyclone" that is about to take a toll on the East Coast. By now, you know that there is nothing "bomb" about it, and bracing yourself means thinking of every warm thing you've ever encountered in your entire life. Oh, you'll have pictures alright, and those "bomb cyclone" Instagram captions are going to be flowing better than the blood that's hardly reaching your icicle toes and hands.
According to USA Today, the storm is expected to hit Florida and Georgia, and will make its way up to the East Coast, sending temps to soul-shaking, cold degrees. New England is expected to get hit with some major snow. The "bomb cyclone" is also being referred to as a winter hurricane. And as much as a hurricane and snow seem like two contradicting weather events, it is a thing, apparently. This is not, I repeat, not one of those times where meteorologists might be a little wrong in regards to what's heading our way.
It's about to get super cold, and if you repel temps below 70 degrees like me, your nightmares have taken the reigns to your life and are about to show you what cold really is. Bundling up helps, of course, but if your mind can't shake the arctic temps that are hitting your face, you're sort of in trouble.
Documenting is a must, especially if you plan on having to be outside at some point, since different regions are going to be hit with various aspects of this chunk of cold weather. We can't wish the cold away, but we can surely make sure people feel our snowy struggles and maybe even laugh a little bit from our freezing pics and 'Gram captions.
1. "Nothing burns like the cold." ― George R.R. Martin, Game of Thrones
2. "A lot of people like snow. I find it to be an unnecessary freezing of water." ― Carl Reiner
3. "It's too cold outside for angels to fly." — Ed Sheeran
4. "When does hibernation start because I am totally participating in that." — Unknown
5. "The sun did not shine. It was too wet to play. So we sat in the house. All that cold, cold, wet day." ― Dr. Seuss
6. "Please send sun." — Unknown
7. "Today's forecast... holy crap I cannot feel my face degrees." — Unknown
8. "One thing about cold weather; it brings out the statistician in everyone." — Paul Theroux
9. "The cold never bothered me anyway." — Elsa, Frozen
10. "Noses are red, fingers are blue. I'm tired of winter, how about you?" — Unknown
11. "If the world is cold, make it your business to build fires." — Horace Traubel
12. "Who knows how long the cold weather will last." — Joe Williams
13. "Does anyone know how to delete snow?" — Unknown
14. "When you come out of the storm, you won't be the same person who walked in. That's what this storm's all about." ― Haruki Murakami
15. "It takes a real storm in the average person's life to make him realize how much worrying he has done over the squalls." ― Bruce Barton
16. "You don't have to shovel sunshine." — Unknown
17. "Storm? Shine your light and make a rainbow." ― Richie Norton
18. "There are easy ways to bring back summer in the snowstorm." ― André Aciman
19. "The weather outside is frightful, but the wine inside is delightful." — Unknown
20. "OH NO! It is January and cold outside. Has the world gone mad?" — Unknown
The "bomb cyclone" is coming and there's not much we can do about it besides bundling up. In brighter news, at least we've already got another cool weather-related name to add to the list.