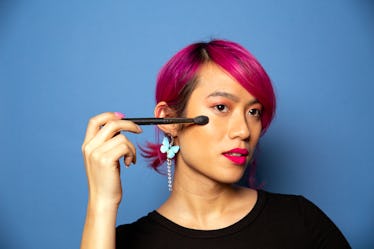 Bye Bye Binary — Merriam-Webster Adds Singular "They" Pronoun To Its Dictionary
As of Sept. 17, 2019, the Merriam-Webster dictionary defines "they" as, "Used to refer to a single person whose gender identity is non-binary." Allow me to proudly reiterate: The dictionary now defines non-binary babes by using the singular "they" pronoun. Seeing my gender pronoun on spellcheck (that's queer for "my name in lights") has been a lifelong dream of mine. And now, these tweets about Merriam-Webster adding singular "they" pronoun to its dictionary are like the genderless icing on the delicious, academically-validating cake.
In a statement released, Merriam-Webster announced their expansion of the existing definition of the pronoun "they" to specifically include non-binary people, explaining, "It's an expansion of a use that is sometimes called the 'singular they' (and one that has a long history in English)."
"If a word is frequently used and likely to be encountered, then it goes in," Peter Sokolowski, an editor-at-large at Merriam-Webster, told TIME. "Because its [singular they's] use as a pronoun has become so frequent and so public, it's simply time for it to go into the dictionary."
Though I like to think that non-binary babes are timeless, these tweets about the now dictionary-official singular demonstrate that their time is now.