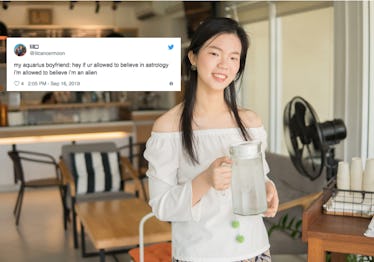 19 Tweets About Dating An Aquarius​ That Really *Bear* It All
Shutterstock
Dreamy Aquarius dances to the beat of their own drum. They're loyal, caring, and want everyone around them to feel included in everything they do. With a penchant for storytelling and a love of exchanging deep theories, going out with an Aquarius makes for a date that's hard to forget. In fact, these tweets about dating an Aquarius​ really (water) bear it all.
Because they're so unconventional, Aquarius can kind of live in their own little world. They love learning about quirky tidbits like conspiracies or outer space. At a party, they will happily go off on a tangent about niche topics that no one else has ever heard of. What can they say? This air sign is wise beyond their years and able to see things in new, innovative ways. Philosophical and creative, these water bearers are unlike anyone else. Though some of their hobbies may be a little, ahem, far out (read: staying up until dawn reading old sea shanties), Aquarius likes to share their knowledge and ideas with the people they love.
Whether you're a quirky Aquarius or you're lucky enough to be dating one, these 19 tweets about Aquarius romance will really fill your vessel with water (I know that's not a thing people say, but go with it).