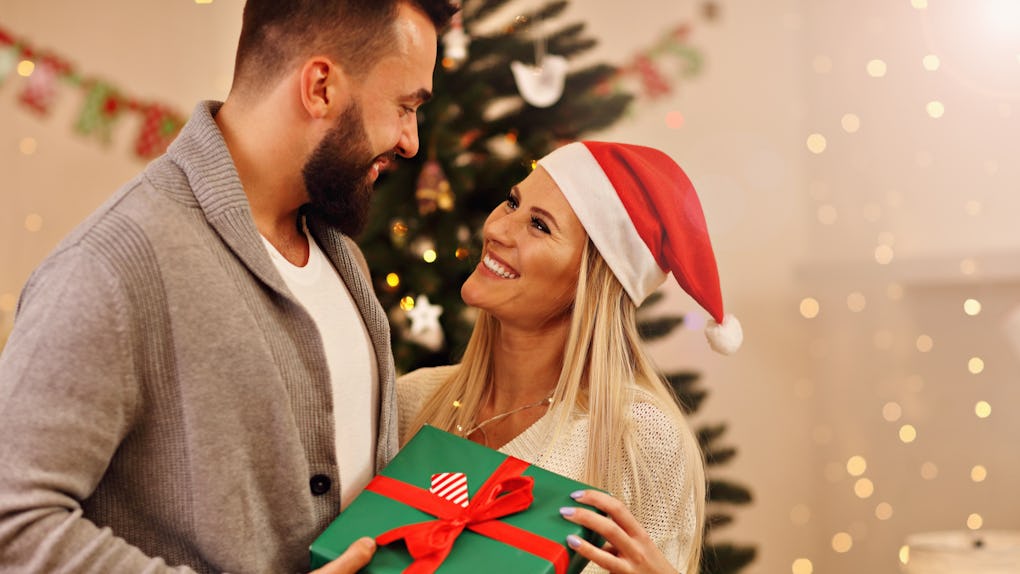 Kamil Macniak/Shutterstock
19 Christmas Present Instagram Captions That Unwrap All The Feels
While Christmas isn't completely about expecting a major come up from under your holiday tree, getting gifts is always exciting. Yes, we are here for the less material side of Christmas, but the holiday spirit can be wrapped up too, right? Spread your excitement even further with Christmas present Instagram captions that will stand out more than the big red bows on top of your gifts.
Even as adults, that overflowing sense of not knowing what you're getting is always in full swing during Christmas. Sure, you had a list, checked it twice, but from there, the ball is completely out of your court. The great thing about getting gifts when you're older, though, is you oftentimes end up with things you didn't know you needed but could certainly use.
We're falling into habits as we are older, and your close friends and family are taking notes on your adulting routine and gifting accordingly. Yes, you have reached that time where your gifts can be more of what you need and less of what you want. Oh, and there's nothing wrong with that. A gift is a gift.
Now, it's that faithful time where you have to show your dope gifts off to the world and share your gratitude. Don't present those lovely gifts without one of these abolute-sleigh amazing captions that'll highlight your holiday cheer.
1. "You can always tell what kind of a person a man really thinks you are by the earrings he gives you." — Audrey Hepburn
2. "Presents are made for the pleasure of who gives them, not the merits of who receives them." — Carlos Ruiz Zafón
3. "I opened two gifts this morning. They were my eyes" — Unknown
4. "The best gifts come from the heart, not the store." — Sarah Dessen
5. "The best of all gifts around any Christmas tree is the presence of a happy family all wrapped up in each other." — Burton Hillis
6. "The manner of giving is worth more than the gift." — Pierre Corneille
7. "A beautiful heart can bring things into your life that all the money in the world couldn't obtain" — Dau Voire
8. "Every gift which is given, even though it be small, is in reality great, if it is given with affection." — Pindar
9. "Giving does not only preceed receiving; it is the reason for it. It is in giving that we receive." — Israelmore Ayivor
10. "Every gift from a friend is a wish for your happiness." — Richard Bach
11. "Often the best gifts we can give each other cost nothing." — Russ Ramsey
12. "Happiness doesn't result from what we get, but from what we give." — Ben Carson
13. "It's all fun and games 'til Santa checks the naughty list." — Unknown
14. "Presents are symbolic. When you give them in your personal life, they should show that you are paying attention to the person to whom you're giving them." — Judith Martin
15. "It's the most wonderful time of the year." — Andy Williams
16. "There's room for everyone on the nice list." — Unknown
17. "Christmas is doing a little something extra for someone." — Charles Schulz
18. "Of all the gifts, love is the greatest gift." — Lailah Gifty Akita
19. "It's not about presents but it is about your presence. Therein lies the spirit of the holiday season." — Julieanne O'Connor
You'll surely be one of a million people posting about the great holiday snags they received and gave out during Christmas. If you're speaking from the heart though, the way these gifts resonate with you will always be unique.