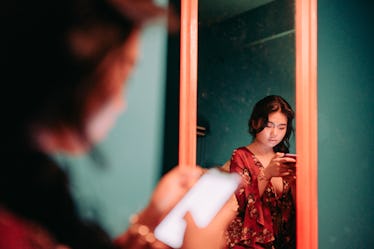 18 Hot Texts To Send Your Hookup On Valentine's Day If You're Feeling Frisky & Want To Meet Up
If you're feeling frisky, it's OK to send a booty text to your make out buddy — even when the calendar marks Feb. 14. Whether you're smooching a new sweetie or you have a pretty established FWB situation, Valentine's Day fun isn't only for monogamous couples — or even couples at all. Yet, (over)thinking the perfect wording for all the Valentine's Day texts to send your hookup is perfectly natural. With the added pressure V-Day can bring to relationships, you may feel unsure about the rules of initiating a late night Valentine's Day date.
Of course, the rule is that there are no rules. And if you and your boo have a #casual thing or if you're still awkwardly awaiting the big DTR talk, hanging out on Valentine's Day doesn't need to be a big deal. Sending a sexy text and having a fun night can be as chill as any other day — you just get to eat red candy if you want to. A sexy V-Day text can be a step up from a sultry DM, but still a casual move to ask your hookup to hang.
If you're totally smitten with your hookup this Valentine's Day, try sending some of these 18 sexy texts when you want to meet up.